If you love wedge salads but can't do the dairy-based dressings then you'll love this dairy free Outback Steakhouse Wedge Salad.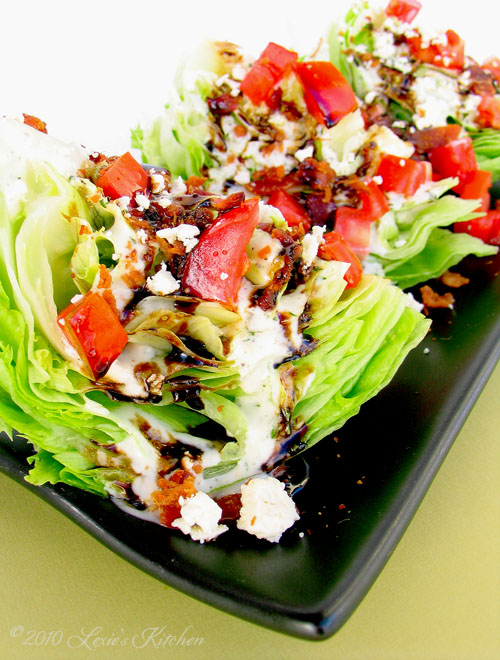 This wedge salad is one of my favorite menu items at Outback Steakhouse. If you're okay with dairy, top this easy-to-prep salad off with blue cheese crumbles (if you need to avoid gluten, be sure the blue cheese you use is gluten-free. Bel Gioioso's gorgonzola is a good bet).
Because Outback Steakhouse makes the effort to accommodate diners on special diets, we give them our business. Their food and service is consistent. Like Starbucks, you know what you're going to get. When our boys dine with us (they are 3 and 4), we can get away with splitting an Outback Special GF—a 6-ounce steak accompanied by a naked sweet potato and unseasoned green beans. Ask mom what her favorite menu item is and she'd have to say the Wedge Salad. It's a simple little salad of iceberg lettuce topped with a blue cheese dressing, diced tomatoes, bacon bits, red onion and a drizzle of a sweet balsamic vinegar glaze. I just had to recreate it for our gluten-free dairy free-friends after all, how can a salad I adore not be enjoyed by everyone!?
Outback Steakhouse Wedge Salad
Ingredients
1/2 cup balsamic vinegar
1/8 cup honey
1/4 teaspoon salt
6-8 strips bacon
1 tomato, diced
1/4 red onion, thinly sliced
1 head iceberg lettuce, quartered
1 cup vegan mayonnaise
1/4 cup unsweetened non-dairy milk
1 tablespoon fresh lemon juice
1/2 teaspoon dried parsley
1/2 teaspoon dried dill
1/4 teaspoon granulated garlic
1/4 teaspoon granulated onion
1/8 teaspoon salt
1/8 teaspoon black pepper
Instructions
In a small saucepan combine, vinegar, honey and salt. Bring to gentle simmer and cook until reduced to a thick syrup. Set aside to cool.
Meanwhile, cut bacon into 1/2-inch pieces and and fry until crispy. Set aside. Dice tomato, thinly slice red onion and quarter the iceberg lettuce. Set aside.

For the Dressing:

In a medium bowl, whisk remaining ingredients.

For the Assembly:

On one large plate or on four individual serving dishes, arrange and top lettuce wedges evenly with a spoonful (or two) of ranch dressing, tomato, red onion and bacon. Drizzle with balsamic glaze.
Notes
If you tolerate dairy, a spoonful of blue cheese crumbles tops this salad off perfectly!
https://www.floandgrace.com/2010102outback-steakhouse-wedge-salad-html/
© 2016 - 2022 Flo and Grace.