Dairy allergic or lactose intolerant guests coming for the holiday? Whip up these crowd-pleasing dairy free mashed potatoes!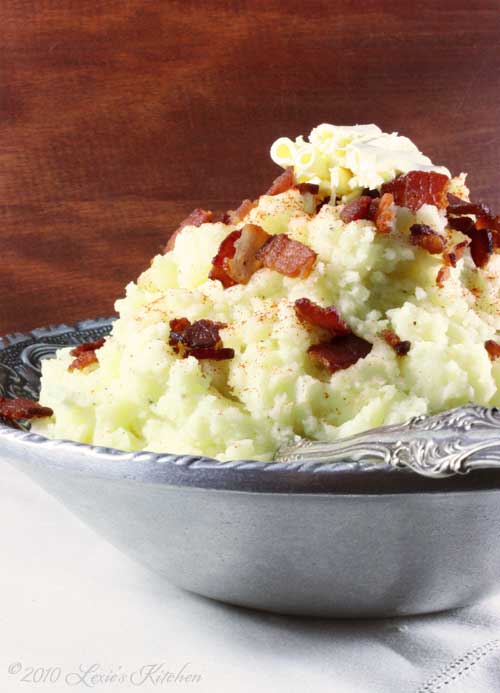 Dairy allergic or lactose intolerant guests coming for the holiday? Whip up these crowd-pleasing dairy-free mashed potatoes!
You guys out there, especially you mid-westerners, I'd venture to say that your mom makes the best mashed potatoes. I know because I married one just like you whose mom whips up a pretty mean bowl of 'em! It also happens to be that he is an Indiana boy which roughly translates into "give me meat and potatoes or I shall wilt."
I commend my hubby since our son was diagnosed with food allergies. He never complains or demands the comfort foods of his youth, but because I love him, I make them—with a few modifications, of course.
One side I have been whipping up (pun intended) lately are these dairy-free mashed potatoes. They may be lacking butter and milk, but they sure aren't lacking in flavor and richness. Give these a try this holiday season, just be sure to make a triple batch—they go fast!
What's up with the bacon you ask? My four year-old has become my sous chef. Tonight I told him we were having mashed potatoes for dinner and he said; "oh oh, and put bacon on them. I had a dream last night about making mashed potatoes and I put bacon on them so that people would think they were eating cowboy food." I tried my best to keep a straight face. So, the bacon is optional. I will say, had I not topped the potatoes with bacon bits this photo would have been worse than it already is. Let me tell you, WHITE food is challenging to shoot, so I am finding. So apologies for a photo that may be a little off color (don't they look a little green to you?), but just trust me, these mashers are good under any light!
Mom's Mashed Potatoes
Gluten-Free | Casein-Free | Citrus-Free | Dairy-Free | Egg-Free | Fish-Free | Nightshade-Free | Peanut-Free | Rice-Free |Shellfish-Free | Soy-Free | Tree Nut-Free | Wheat-Free | Sesame-Free | Sweetener-Free | GFCF
Serves:  4
Prep Time:  30 minutes
Ingredients:
4-5 medium RUSSET POTATOES
1/3 cup potato cooking WATER
2 tablespoons melted EARTH BALANCE SOY FREE BUTTERY SPREAD or olive oil
1 tablespoon NUTRITIONAL YEAST (such as Bragg's—adds cheesy flavor)
2 teaspoons GRANULATED ONION
1 teaspoon CHICKEN BOUILLON
1/4 teaspoon SEA SALT
1/4 teaspoon BLACK PEPPER
Directions:
1. Peel and slice potatoes into 1/2″ rounds. Add potatoes to a large stainless steel pot, cover with water, bring to boil and simmer until are tender.
2. In a small bowl whisk together remaining ingredients and set aside.
3. When potatoes are tender, strain and return to pot. Pour "buttery" mixture over potatoes and whip using a hand-held or stand mixer until smooth. You may want to add a bit more water to achieve desired consistency.
Notes:
Corn allergy? Use olive oil.