The first time I made raw cheesecake, I didn't know what to expect. But WOW! Was I ever so very pleasantly surprised by this Raw Strawberry Cheesecake and its likeness to dairyful cheesecake!

For months I had been told that I had to give this raw cheesecake a try. It's another recipe from family friend, Sinclair—raw food chef extraordinaire! I had never made raw cheesecake and didn't know what to expect. I was so very pleasantly surprised by it's likeness to dairy-ful cheesecake that I've made it multiple times since—company has raved everytime! When I make this "cheesecake" for the kids, I use a muffin tin. For company I will make it in a  5″ round springform cake pan. The pretty pink makes me think Valentine's Day. The "easy-to-make" makes me think I will be making this often!
Raw Strawberry Cheesecake
Gluten-Free | Casein-Free | Corn-Free | Dairy-Free | Egg-Free | Fish-Free | Nightshade-Free | Peanut-Free | Potato-Free | Rice-Free | Shellfish-Free | Soy-Free | Wheat-Free | Grain-Free | Sesame-Free | Yeast-free | GFCF | Vegetarian | Easily-Vegan (sub out honey) | Raw
Makes: 1-5″ Round or 12 Minis
Ingredients:
FOR THE CRUST (pictured in Mini-Cheesecake photo below)
3/4 cup raw MACADAMIA NUTS
1/8 cup raw COCONUT FLAKES
1/2 cup pitted DATES
Pinch SEA SALT
FOR THE FILLING
1-1/2 cups soaked and rinsed raw CASHEW NUTS (soak 4 hours)
1/3 cup LIME JUICE
1/3 cup HONEY
1/3 cup COCONUT OIL
1/2 cup FRUIT of your choice (I used strawberries)
2 tsp VANILLA
Pinch SEA SALT
Directions:
In food processor, process crust ingredients until a sticky dough forms.
Press dough into 5″ round springform cake pan (line bottom with parchment). For mini cheesecakes, divide crust into 12 equal sized balls and press into standard size muffin tin lined with cupcake liners.
Freeze or refrigerate crust(s) 2 hours.
In high-powered blender, blend filling ingredients until super smooth.
Remove crust(s) from freezer and pour into pan (fill muffin tins 3/4 full). If desired, drizzle and swirl warmed fruit preserves over surface of cheesecake.
Freeze or refrigerate another 2 hours or until set.
If frozen, let stand at room temperature 10-15 minutes before serving. Garnish with strawberries or candied ginger.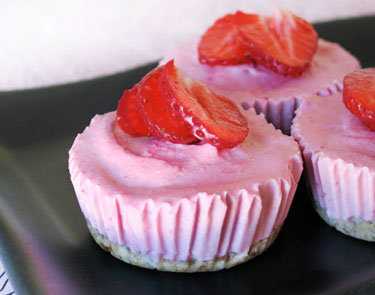 Make mini cheesecakes using a muffin tin.