Who doesn't enjoy a little sweet treat after a meal? Tonight, this Dairy Free Frozen Yogurt was on my mind and needed to be in my belly.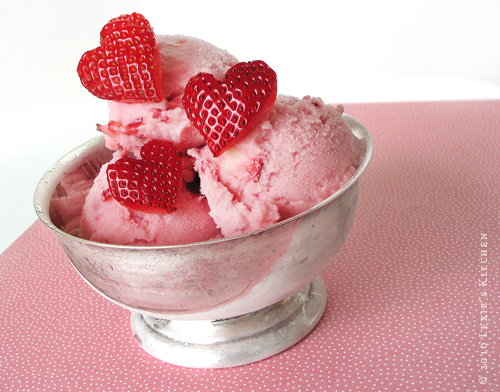 Who doesn't enjoy a sweet treat after a meal? Tonight, this Dairy Free Frozen Yogurt was on my mind and needed to be in my belly, pronto. With a few ingredients and a handy electric ice cream maker, I was able to make a batch of icescreamilicious frozen yogurt in 30 minutes flat! I used homemade dairy-free yogurt, but a non-dairy yogurt like SoDelicious works just as well.
Almond & Hemp Milk Strawberry Frozen Yogurt
Serves: 4
Cut into 1/4″ chunks, spread on a plate and place in freezer:
5 medium organic STRAWBERRIES
In blender, blend until combined:
1-1/2 cups Almond & Hemp Milk Non-Dairy YOGURT or other plain non-dairy yogurt such as So Delicious® Coconut Milk Yogurt (see NOTES)
1 cup chilled unsweetened VANILLA HEMP MILK or other non-dairy milk (see NOTES)
15 drops SweetLeaf Vanilla Crème LIQUID STEVIA
3 tablespoons runny HONEY (or maple syrup to make it vegan)
1 teaspoon gluten-free VANILLA EXTRACT
6 tablespoons STRAWBERRY RHUBARB SYRUP or 2 additional tablespoons runny honey (see NOTES)
Pour yogurt mixture into ice cream maker and follow the manufacturers instructions. When the yogurt mixture begins to stiffen, add the reserved strawberries.
We have the 1-1/2 quart Cuisinart® Automatic Frozen Yogurt-Ice Cream & Sorbet Maker and have been quite pleased with it. It takes about 20 minutes of churning to produce a frozen treat. It's a good size for a family of four, but if you are serving any more than that, I'd consider a larger model. In my experience, it's best to dish up and serve the ice cream right away. If you must serve later, I suggest scooping scoops into individual serving dishes and freezing rather than transferring to, and freezing in, one large container. 5-10 minutes before serving remove from freezer and allow frozen yogurt to soften up a bit.
NOTES: If using pre-sweetened yogurt you may want cut back on the honey. Hemp milk is a highly nutritious non-dairy milk and one of the creamiest of the store-bought milks. Homemade nut/seed milks are superior to any you can buy, however I keep store-bought on hand to use in a pinch. The Strawberry Rhubarb Syrup tints the yogurt a beautiful shade of pink, but a few strawberries pureed with the yogurt mixture should work just fine for color, too.