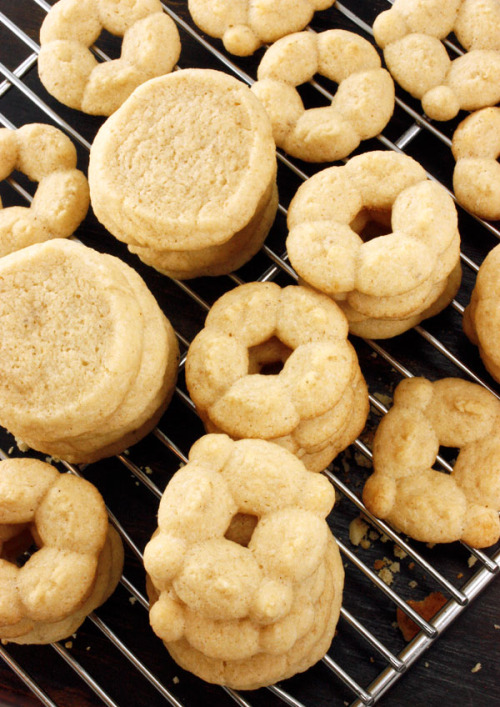 Okay all you health food nuts (of which I am one), this recipe may not be up your alley. For the rest of you (or the nuts like me who indulge on occasion), you can't go wrong with this here sugar cookie. Shoot the dough out of a cookie press or roll it into a log, freeze, slice and bake—either way, this recipe makes a very versatile dough.
I don't know what possessed me to to take on the challenge of creating a gluten-free, egg-free, dairy-free version of the sugar cookie. Something tells me it had a little to do with my childhood memory of eating Danish Butter Cookies this time of year. Remember them? Those round tins of cookies that come in a variety of delightful shapes—the ones you can pick up at the nearest drugstore for 2 for $5. My favorite was the sugar sprinkled pretzel shape.
Though free of preservatives and additives, this recipe is by no means free of sugar and buttery spread—alas, those ingredients are what make these cookies perfectly light and crisp. Yes, slightly healthier than the drugstore variety, but they don't quite qualify as a health food either. But shhh, it's okay. It's the holidays. Indulge. I won't tell.
I had a ton of fun packing this dough into a cookie press and squirting it out to make festive spritz cookies.
Factoid: "Spritz" comes comes from the German
word spritzen, meaning "to squirt".
I didn't decorate this last batch so that you could see what they looked like naked and hot out of the oven, but decorate away with a glaze and sprinkles if you are so inclined to. I've rounded up some spritz cookie decorating ideas on Pinterest. Take a look. If opting for the freeze and slice cookies, here's a refined sugar-free frosting recipe I look forward to trying.
The ingredient that really makes these cookies is the Authentic Foods Superfine Brown Rice Flour I used. Food allergy chef extraordinaire, Cybele Pascal, writes in one of her cookbooks that Authentic Foods Superfine Brown Rice flour is "the Cadillac" of rice flours. I have to agree. I have been using it in pie crusts and cookies and am so impressed. No grittiness whatsoever! I highly recommend it—it's a bit pricey, but I reserve it for baking only. You can order it from Amazon or locate a store near you that may carry it by clicking here.
Tips to keep in mind as you head into the kitchen to make these:
1. Follow recipe to the "T".
2. Freeze the dough or pressed spritz cookies on sheets prior to baking.
3. If making spritz cookies. Do not line the cookie sheet with parchment.
Gluten-Free, Dairy-Free, Egg-Free Sugar & Spritz Cookies
Gluten-Free | Casein-Free | Citrus-Free | Dairy-Free | Egg-Free | Fish-Free | Nightshade-Free | Peanut-Free | Potato-Free | Shellfish-Free | Soy-Free | Tree Nut-Free | Wheat-Free | Sesame-Free | Yeast-free | GFCF | Vegetarian | Vegan

Ingredients:
1 tablespoon white CHIA SEED MEAL (grind seeds in a coffee/spice grinder)
3 tablespoons cold WATER
1 tablespoon gluten-free VANILLA EXTRACT
3/4 cup superfine BROWN RICE FLOUR (like Authentic Foods)
1/4 cup TAPIOCA FLOUR
1/4 cup POTATO STARCH
1 teaspoon BAKING POWDER
1/2 cup cold Earth Balance® Soy-Free BUTTERY SPREAD
1/2 cup granulated SUGAR
Instructions:
In small bowl, whisk chia meal, water, and vanilla. Let stand 5 minutes.
In medium bowl, combine flours and baking powder.
In separate medium bowl, beat buttery spread and sugar on high for 30 seconds.
Add chia mixture and beat on high for 30 seconds.
Add flour mixture and beat on high for 30 seconds.
For Freeze & Slice Sugar Cookies:
Form dough into a ball and roll into a 2″ diameter log. Wrap in plastic wrap and freeze. When ready to bake; remove plastic wrap and slice into 1/2″ disks. Arrange on parchment-lined baking sheet and bake at 375˚F for 10-12 minutes. Transfer cookies from cookie sheet to rack and let cool.
For Spritz Cookies:
Immediately after mixing dough (do NOT refrigerate), load cookie press and press out cookies onto UN-lined, UN-greased cookie sheet. Transfer to freezer and freeze 45-60 minutes. Transfer to 375˚F oven and bake 10-12 minutes. Transfer cookies from cookie sheet to rack and let cool.
A Helpful Video Tutorial