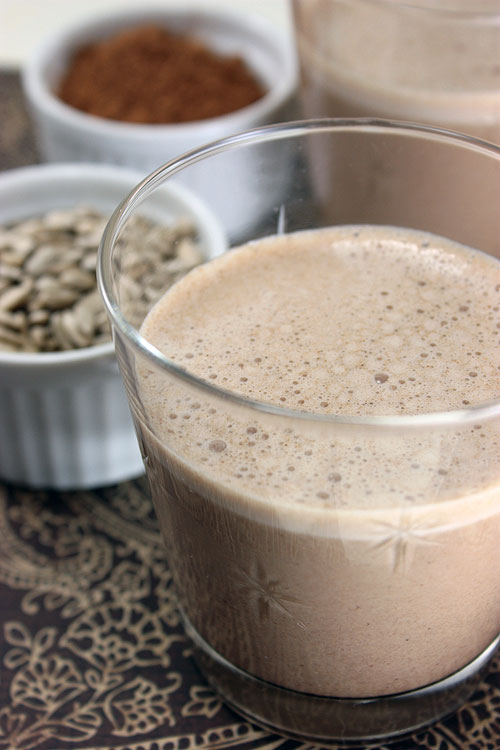 Nut and seed milks have been our saving grace.
When our son was 14 months old, chronic sinusitis and GI "issues" led us to suspect an intolerance to cow's milk and soy milk. Shortly thereafter, skin and blood allergy tests confirmed it.
Hearing of our plight, my raw foodist sister showed up on our doorstep with a pitcher of creamy, date-sweetened almond milk. "Try this," she said, and showed us how easy it was to make.
Two years later and thanks to my sis, nut and seed milks have become a staple in our kitchen. We use the milks in smoothies, in baking, for making ice cream and over hot cereal. We've tried almond, cashew, Brazil nut, hazelnut, sunflower, hemp, sesame and even rice and oat.
This week sunflower seed milk is the flavor in the fridge. Sunflower seed milk may not be as neutral in taste as say, almond or cashew, but it's one of the creamiest by far, and super rich when mixed with carob powder (or cocoa) and a touch of sweetener.
______________________________________________________________
Just one ounce of sunflower seeds boasts a whopping 76% of the Recommended Dietary Allowance
of vitamin E—a powerful antioxidant that protects the body from the harmful effects of toxins and
carcinogens that cause free radical damage to cells in the body. According to the USDA Nutrient
Database sunflower seeds are the best whole food source of vitamin E. 
______________________________________________________________
Making nut and seed milks is so easy! A good blender and a bag for straining are the only tools needed. Sources online sell bags specifically designed for straining nut milk. I started out using these but have discovered a more durable and economical solution—reusable produce bags from 3B Bags. 3-packs of these 100% polyester, fine mesh bags may be purchased from the Lexie's Kitchen Amazon Store, direct from 3B Bags and from a number of natural food stores (Whole Foods, Sunflower Market and Vitamin Cottage to name a few). They retail for around $7.50. Locally they are as low as $4.99! Clean-up is easy, just rinse and toss the bags in the laundry and hang dry. The great thing about buying them in 3-packs is that it ensures you always have a clean nut milk bag on hand!
Sunflower Carob Milk

Gluten-Free | Casein-Free | Citrus-Free | Corn-Free | Dairy-Free | Egg-Free | Fish-Free | Nightshade-Free | Peanut-Free | Potato-Free | Rice-Free | Shellfish-Free | Soy-Free | Tree Nut-Free | Wheat-Free | Grain-Free | Sesame-Free | Easily Sweetener-Free | Yeast-free | GFCF | Vegetarian | Easily Vegan | Raw

Serves:  Makes approximately 4 cups
Active Time:  5 minutes
Soak Time:  2 hours
Ingredients:
1 cup raw, hulled SUNFLOWER SEEDS, soak in water for 2 hours, rinse, drain
4 cups WATER
1 small CINNAMON STICK (optional), soak with sunflower seeds
1/4 cup CAROB POWDER
STEVIA, raw HONEY or SOAKED DATES (4-5) to taste
Pinch SEA SALT
Directions:
Add all ingredients to a high-powered blender. Blend on high until smooth.
Drape nut milk bag over a large bowl. Pour milk mixture through nut milk bag. Pull draw string tight and gently squeeze milk out of bag into bowl. Discard pulp or use in crackers. Transfer milk to a pitcher or jar, chill and serve. If milk separates, just give it a good stir before serving.