When you can't do dairy and miss yogurt, make plant-based yogurts your friend. Almond Milk Yogurt is easier to make than you'd think.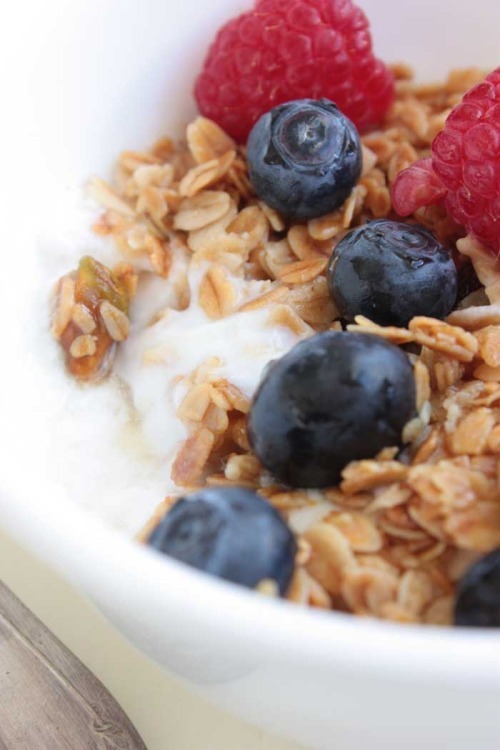 This recipe is a take-off of one I shared a while back for Almond & Hemp Milk Yogurt. It is a good post, but oh my, it is long and very detailed. This is a simplified recipe for straight up almond milk yogurt and a condensed version of the how-to's.
Almond Milk Yogurt | Dairy-Free
Do not make substitutions, do not alter measurements. Do not use plant-based milk "beverages" (Silk, SoDelicious, etc). Use almond milk made from fresh almonds. Do not add flavorings or sweeteners until AFTER culturing and before transferring to the refrigerator ... I've gotten a few "it didn't work" comments. Digging deeper I discovered that "this or that was added." Do not omit the sugar, sugar is the bacteria's food. The bacteria will consume most of it for those who are closely watching their sugar intake. Follow the recipe exactly for guaranteed results.
Ingredients
2 cups raw ALMONDS
1 teaspoon AGAR AGAR powder (not flakes or bar)
2 tablespoons CANE SUGAR
1/4 cup ARROWROOT POWDER
Filtered WATER
Allergen-Free YOGURT STARTER or Allergen-Free Probiotic Capsules
Sterilize all cooking utensils, bowls and fermentation containers by dousing in boiling water.
Instructions
Soak almonds in filtered water 8-12 hours. Rinse well. Drain.
Transfer almonds to high-powered blender. Add enough filtered water to bring contents up to the 4 cup mark. Blend on high until smooth. Drape a large bowl with straining bag (see notes). Pour nut milk through bag. Squeeze out as much of the milk as possible. Set almond pulp aside to use in crackers or toss.
Rinse blender carafe. Pour milk back into blender and add enough water to meet the 4 cup mark. Set aside.
In a small bowl, mix arrowroot powder and 1/2 cup water. Set aside.
Add 3 cups of filtered water to a large pot (preferably larger than 3 quarts) and sprinkle agar agar powder over surface. Gently simmer 3-5 minutes or until agar agar is completely dissolved.
Whisk milk and sugar into the agar agar mixture. Return to simmer, stirring occasionally. Watch it VERY carefully. It can boil over in split second. As soon as a simmer is achieved, whisk in the arrowroot slurry. Simmer 10-15 seconds and remove from heat.
Allow milk to cool to 100F. This can take 45-90 minutes.
Mix yogurt starter (use manufacturer's recommended measure) or 35-40 billion CFUs of probiotic into a small amount of the cooled milk. Add to rest of the milk and whisk very well. Transfer to fermentation container(s) and then to yogurt maker. Leave undisturbed to ferment 8-10 hours. Transfer to refrigerator and chill 6-8 hours. Yogurt will set as it cools.
https://www.floandgrace.com/2011914almond-milk-yogurt-dairy-free-html/
© 2016 - 2022 Flo and Grace.
Helpful Tips:
Straining Bag: You may use a reusable fine-mesh produce bag (like 3B Bags), nut milk bag, cheese cloth.
Cooling: Allow milk to cool at room temp. Do not cool using a water bath as the agar agar will begin to set. Give it an occasional whisk. The mixture may look clumpy (this is the agar agar setting), but a good whisk will smooth it out again.
The Starter: Nut/seed milk yogurts are best made using a yogurt starter. Unlike animal-based milks, a scoop of yogurt may not work. I prefer working with a starter designed specifically for yogurt making. Because it is impossible for me, a consumer, to oversee every step in the manufacturing process when it comes to allergen-free yogurt starters and probiotics, I must leave it up to you to research and decide which yogurt culture or probiotic is safe for you and your family. One tip I can provide in your search; select one that includes the lactic acid-producing bacteria Lactobacillus bulgaricus and Streptococcus thermophilus. In the United States, the USDA defines "yogurt" as containing these two strains bacteria.
The Yogurt Maker: I prefer using a yogurt maker. I rest assured knowing that the yogurt is fermenting at a safe temp. However, you may choose to ferment in any container, preferably glass, in any environment that is kept at a constant 105-110˚F (cooler, oven, etc).
Thickening the Yogurt: When I make yogurt, there are two ingredients that I use to enhance the creaminess and overall texture; arrowroot powder and agar-agar powder. Arrowroot powder/starch may be substituted with tapioca starch, yielding close to the same result. I buy arrowroot from my local natural food store as well as off of Amazon. Agar-agar is a plant-based "gelatine" derived from seaweed. It helps to set the yogurt and firm it up. Agar powder may be purchased in packets at Asian grocery stores, from larger natural grocery stores and off of Amazon.
End Result: This yogurt will be mild with a slight tang. Portions of the surface may dry to a pale yellow; this may be expected. If there are any hints of pink, gray or black on the surface of the yogurt, throw the batch out and start again. This suggests the equipment was not thoroughly sterilized, that the yogurt starter was "dead" and/or that foreign "bad" bacteria colonized the batch, and/or that milk was hotter than 95° to 105°F when the starter was added.