A good peanut-free peanut butter substitute is hard to find. This sunflower coconut butter is the closest I've made in taste and texture to honest-to-goodness peanut butter.
We've gone without peanut butter for a while now … and we really miss the stuff. To satisfy our cravings we've been eating jar after jar of Sunbutter®— also known as sunflower butter, the most common (if not only) nut-free (but not coconut-free) substitute for peanut butter's creamy goodness.
My kids love sunflower butter. I like it enough to eat it, but just find the roasted sunflower taste a wee bit overpowering.
So I thought about taming it.
But how?
Coconut!
To my surprise, this combination of toasted sunflower seeds and coconut is the closest substitute I've found, in taste and texture, to that of creamy peanut butter.
For the creamiest spread, you will need a high-powered blender such as a Blendtec, OmniBlend, or Vitamix. I ran a batch in my food processor and got a butter (after 15 minutes), but it was far from smooth. In a high-powered blender, friction and the resulting heat causes the mixture to liquefy. Once poured into jars and allowed to cool at room temperature, it should firm up to a creamy spreadable butter.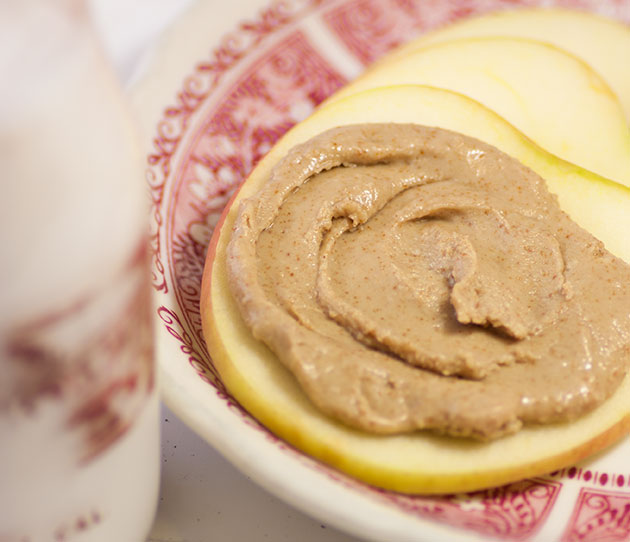 Almost Like Peanut Butter but Peanut-Free!
Ingredients
1/4 cup COCONUT SUGAR or granulated sugar
4 cups finely shredded COCONUT, unsweetened
1 cup raw SUNFLOWER SEEDS
1-1/2 tablespoons COCONUT OIL
1/4 heaping teaspoon SALT
Instructions
Add coconut sugar to container of high-powered blender. Blend 10-15 seconds or until powdery. Remove and set aside.
In a large skillet toast sunflower seeds over medium heat, stirring constantly, until the majority of seeds are golden in color. Transfer to blender container.
Add to skillet coconut. ***Coconut toasts quickly*** Over medium heat warm coconut flakes until heated through and some of the shreds are golden in color. Remove from heat and set aside.
Blend sunflower seeds on low until a fine powder forms.
Add coconut oil and blend again, increasing to medium speed and pausing to scrape sides as needed.
Blitz on high for 10 seconds and stop.
Add 1 cup coconut. Blend at medium speed for 20-30 seconds then increase to high for 10, pausing to scrape sides as needed. At this point butter should be forming and liquefying.
Repeat step seven, 1 cup of coconut at at time.
Once all coconut has been incorporated and mixture is runny, add sugar and salt and blend on high to achieve desired smoothness, about 60-90 seconds.
Mixture will be HOT and runny. Pour into jar(s), cover and cool at room temperature until firmed up. This can take 8-24 hours depend on temperature of your kitchen.
Store at room temperature for up to a week or in fridge up to a month.
Notes
As the blender pulverizes and liquefies the mixture, you may notice what appears to be smoke wafting out of the blender container. No worries, this is an oil mist. No harm is being done to your blender. That said, if your blender starts to smell like hot rubber, let it rest and crank the speed down a notch.
***If you are dealing with a severe peanut allergy, ensure your source of sunflower seeds can guarantee no cross contamination with peanuts or other foods you are allergic to***
https://www.floandgrace.com/20121016almost-like-peanut-butter-but-peanut-free-html/
© 2016 Flo and Grace.