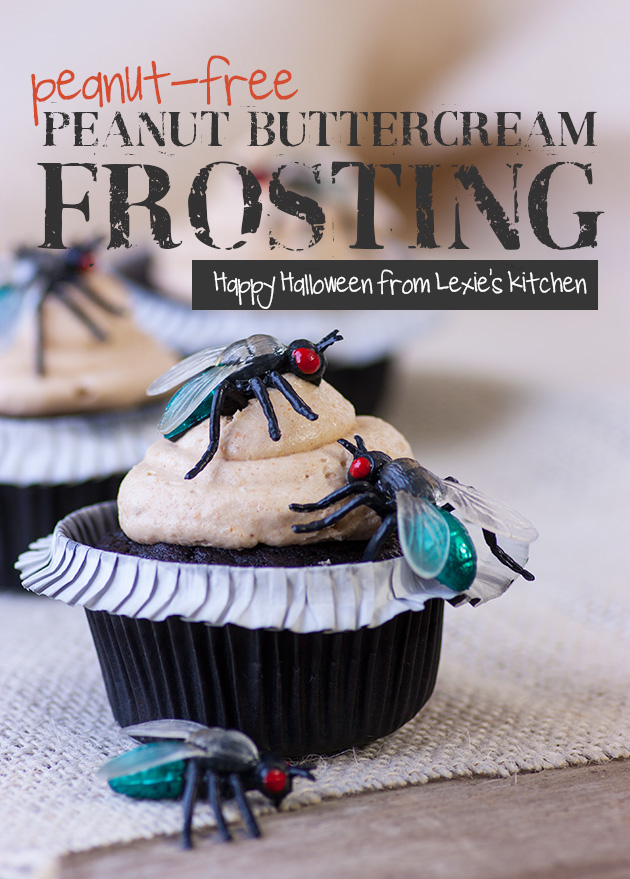 It's party time at your local school. For many of us that means baking and sending ghoulish "safe" treats to class with our little ones.
If you're up for taking the quick and easy route, give these cupcakes a try.
First, grab a gluten-free cake mix. My all-time favorite is Bob's Red Mill Gluten Free Chocolate. Your favorite milk substitute and flax or chia eggs work magically with this mix.
Last week I posted a Sunflower Coconut Butter recipe that "kinda sorta" resembles peanut butter. I had some leftover so whipped up a "Peanut" Buttercream frosting. Yum! Recipe follows.
Get creative with toppings for this cupcake. These flies were a Michaels clearance item last year. Definitely grody (I'd rather not know what these bug-gers were sitting on before landing on my cupcakes. Ha! Realistic, no?.
Plastic spiders—another good and grody idea.
Looking for edible? How about cute little Jack-o'-lanterns. I picked up the candy molds at a thrift shop but am sure you could find something similar at your local craft store.
Have a great week everyone!
Peanut-Free "Peanut" Buttercream Frosting
Ingredients
1/2 cup Spectrum Organic Palm SHORTENING
1/4 cup Sunflower Coconut Butter or Sunbutter®
2 tablespoons COCONUT OIL
1/4 cup MAPLE SYRUP
1 teaspoon VANILLA EXTRACT
1/8 scant teaspoon SALT
Instructions
Ensure shortening and coconut oil are room temperature. Not melted, not super hard.
Using an electric mixer whip all ingredients until smooth and light.
Spread or pipe onto cake/cupcakes. For a more structured frosting, refrigerate 5-10 minutes.
Notes
For these cupcakes I piped the frosting on using an un-tipped icing bag. For this effect you will want to pipe on the frosting immediately after whipping it up. For a structured frosting, refrigerate 5-10 minutes until it just begins to firm up. It will firm up quick so keep an eye on it. This frosting melts at higher temperatures. I refrigerate the cupcakes after decorating and pull them out 5-10 minutes before serving. A tablespoon or two of arrowroot starch may be added to enhance the texture.
https://www.floandgrace.com/20121017peanut-free-peanut-buttercream-frosting-html/
© 2016 Flo and Grace.