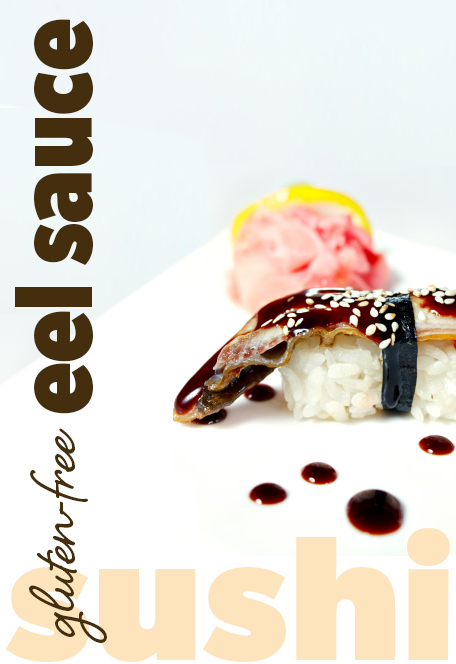 I wing it in the kitchen … often. If I don't have a particular ingredient on hand or have a strong distaste for an ingredient a recipe calls for, I improvise. And that's just what I've done with this Eel Sauce—a tasty drizzle for sushi and one I recommend to serve at your next Hand Roll Sushi Party.
There's nothing "eel-y" about eel sauce, in fact eel sauce doesn't even contain eel. Traditionally it's a sauce for unagi, or eel sushi. I like it slathered on any and all sushi.
Okay, now you want some good eel stories?
I shudder when I think back to the day my friend Aldina and I (we were 5 or 6) came screeching to a halt in her grandfather's kitchen. There in the middle of the linoleum floor was a five gallon bucket. Coiled inside that five gallon bucket was THE biggest, fattest eel I'd ever seen—a 6-footer at least! He was icky and slimy, and grinned at us with razor-sharp teeth, I was thoroughly grossed out. I remember not asking what was for dinner.
And then there was the time off Wailupe Circle. Us kids would dive off the pier into deep blue. To get back ON the pier you had to swim over a bit of reef. I'll never forget coming face-to-face with a sizeable Moray eel. If I could have walked on water, I would've that day.
Gluten-Free (and eel-free) Eel Sauce
Ingredients
2 tablespoons RICE WINE
2 tablespoons gluten-free SOY SAUCE or coconut aminos
2 tablespoons HONEY or sugar
1 teaspoon FISH SAUCE (available from Thai Kitchen or Asian markets)
1/2 cup WATER
1 tablespoon ARROWROOT STARCH or corn starch
Instructions
In a small saucepan bring rice wine, soy sauce, honey, and fish sauce to a gentle simmer.
In a small bowl combine water and arrowroot starch to make a slurry.
Wisk starch slurry into simmering mixture. Heat just until thickened and remove from heat.
Let cool and drizzle over sushi.
https://www.floandgrace.com/20121128gluten-free-and-eel-free-eel-sauce-html/
© 2016 - 2022 Flo and Grace.
More Good Stuff