Sticky Toffee Power Balls
This week I had a hankering for something Larabar-ish and was thinking a lot about the Sticky Toffee Pudding I shared right before the holidays and the toffee sauce that's drizzled over it and thought; why not combine the two! And so I did and these Sticky Toffee Power Balls were born.
What I love about nut- and seed-based snacks is that they are nutrient dense and sustaining. I can eat a half a bag of chips and not feel as satisifed as when I eat a protein-packed snack like this one. And the great thing about power balls is that they are easy to grab and pop in your mouth before you head out the door.
Sticky Toffee Power Balls
Ingredients
2/3 cup canned COCONUT MILK
1/4 cup COCONUT SUGAR
1 tablespoon COCONUT OIL
6 drops NuNaturals LIQUID STEVIA Extract
4 large pitted MEDJOOL DATES
1 teaspoon VANILLA EXTRACT
Pinch SEA SALT
2 tablespoons WHITE CHIA SEED
1-1/2 cups raw CASHEW NUTS
1-1/2 cups unsweetened SHREDDED COCONUT
1/2 cup raw PUMPKIN SEEDS
2 tablespoons LUCUMA POWDER (optional)
Instructions
In a small saucepan, combine coconut milk, coconut sugar, coconut oil, stevia, dates, and salt. Bring to boil and reduce to simmer, stirring occasionally, for 5-8 minutes until slightly thickened. Remove from heat and stir in vanilla and chia. Let stand 5 minutes.
Meanwhile, in a food processor, combine cashews, coconut, pumpkin seed and lucuma powder to achieve a very course meal.
Add liquid toffee mixture to nut mixture. Process until combined and a "dough" begins to form.
Dough will be sticky. Transfer to freezer or fridge to firm up until it's easy to work with.
Roll dough into uniform sized balls or create fun shapes by pressing into silicon ice cube trays (I used flower trays I picked up at Ikea).
Transfer to freezer and allow to firm. Store power balls in air-tight container in freezer or refrigerator. Best enjoyed chilled.
Notes
If you are nut-free but can tolerate coconut, these should work just fine using a coconut/pumpkin seed combo—simply omit the cashews and replace with an additional 1-1/2 cups pumpkin seeds. This recipe is pretty forgiving. Try your favorite combination of nuts and seeds. If you find the dough too sticky, experiment with adding more coconut, nuts, and/or seeds. It does firm up when chilled.
https://www.floandgrace.com/2012112sticky-toffee-power-balls-html/
© 2016 Flo and Grace.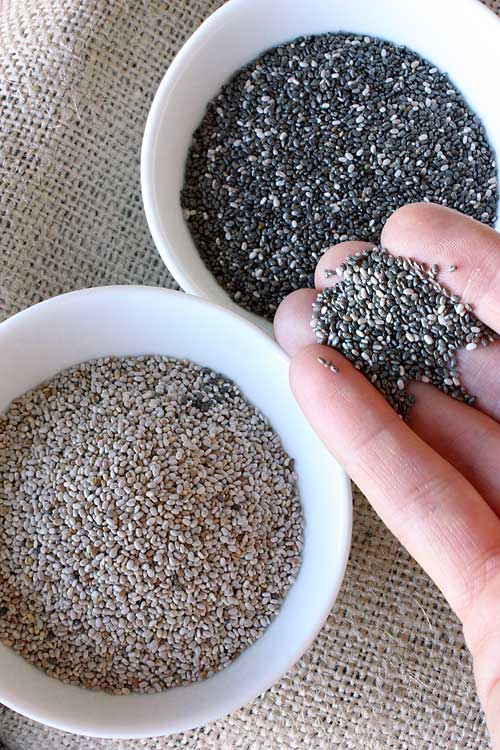 What's That Ingredient?
White Chia Seed
Chia is naturally high in fiber as well as vitamin E, and a single serving contains 6 grams of Omega 3 fatty acids. Chia is also a good source of protein, calcium, niacin, iron, phosphorus, biotin and thiamin. That is quite a potent punch for such a diminutive seed and it certainly explains why chia is experiencing something of a renaissance today. For more on chia, read this post.
Himalayan Salt
Ultimate Superfoods Himalayan Crystal Salt is over 250 million years old and its natural state is nutrient rich with all the beneficial trace elements and minerals, perfectly mimicking sea water as well as our body's natural salinity level. Natural salt doesn't burden our bodies, but instead it releases in us 84 trace elements and nutrients that our bodies can easily absorb and make use of. Also, unlike table salt, this natural salt does not pull excessive amounts of water from our cells, meaning the body will not become dehydrated by consuming it on a normal basis. 
Coconut Palm Sugar
Evaporated Coconut Palm Sugar is derived from the sweet nectar of blossoms that grow at the top of the tropical coconut palm tree (Cocos Nucifera). Traditional local farmers climb high into the canopy of coconut trees and harvest this sweet nectar by gently slicing open the flower. This nectar is then converted into its traditional crystalline form in traditional sugarhouses that allow for small batch Coconut Palm Sugar production. Coconut Palm Sugar is naturally low on the Glycemic Index (GI), which is often important to those who are concerned about weight control and diabetes. Coconut Palm Sugar is rated as a GI 35. In comparison, most honey is GI 55. Coconut Palm Sugar has been known to deliver a slow release of energy, which sustains the human body through your daily activities without experiencing the "highs" and "lows" so often associated with cane sugar. Coconut Palm Sugar also has a nutritional content far richer than any other commercially available sweeteners. It is particularly high in Potassium, Magnesium, Zinc and Iron. It is also a natural source of vitamins B1, B2, B3, B6 and C. Palm Sugar can be used as a 1:1 replacement to cane sugar in most applications. It has a very low melt temperature, a tremendously high burn temperature, and it dissolves in water, making it extremely versatile. It is perfect as a sweetener in smoothies, shakes, spreads, cereals, energy bars, and deserts of all kinds.
Lucuma Powder
Lucuma is considered a healthy alternative sweetener because it provides a sweet taste to recipes, but is very low in sugars. Lucuma powder, from an exotic Peruvian fruit, is a great source of fiber, beta-carotene, vitamin B3, niacin and iron. It blends well so is great for smoothies, puddings, ice cream and raw treats. It adds a rich maple-like flavor that some may say resembles caramel custard. Its texture; dry, quite starchy and with a paste-like consistency that melts in your mouth.