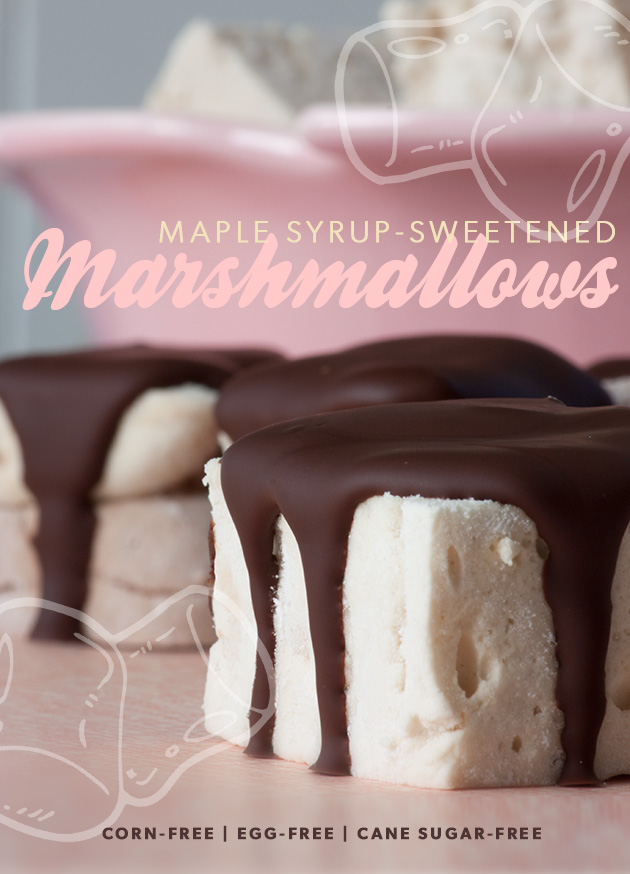 A few weeks back I tempted you with some cane sugar-free, corn syrup-free, egg-free marshmallows. I promised the recipe, and it's finally ready. Here are your Maple Syrup-Sweetened Marshmallows. We've had some medical stuff to deal with and so I thank you— you've been incredibly patient.
Mad Science in the Kitchen
These past weeks in my mad marshmallow experimentation I have learned that you cannot substitute agar agar for gelatin when making these marshmallows. I have learned that the type of sweetener used can make a difference. Believe it or not, marshmallows have a preference for sucrose over glucose. And, I have learned that as temperamental as they can be, marshmallows are pretty easy to make! I feel I have a lot more to learn and so I will continue my education in the field of Marshmallow Science. I wonder if Alton Brown would want to come over and play? Alton?
The Sweeteners
I tested a slew of sweeteners … and here's how they fared.
HONEY
First up were honey-sweetened marshmallows using this recipe from Z's Cup of Tea. Its a goody! An intense "honey" experience, fur shure. Oh and if honey is your thing, Kelly over at The Spunky Coconut has a great recipe for Honey Marshmallow Fluff in her Dairy-Free Ice Cream cookbook.

COCONUT NECTAR
Next up, coconut nectar—that insanely expensive, lower-glycemic, caramel undertoned sweetener that I love atop my almond milk frappucino. Well, the jury is still out on this one. This batch bound up on me to the point I couldn't even scoop it out of the bowl! I plan to try coconut nectar again to ensure it wasn't an error on my part, but after my initial "fail" I moved on to …
GLUTEN-FREE BROWN RICE SYRUP
These marshmallows (pictured in the tutorial below) turned out nicely—not as fluffy as the maple syrup version (I used a smaller measure of water), but more on the soft and tender side. The only thing I wasn't crazy about was the brown rice syrup aftertaste. That said, I might make these again, but I'd likely flavor them with a fairly strong extract (peppermint was great) to mask the brown rice syrup aftertaste. But really, I thought they were the bomb until I tried …
MAPLE SYRUP
YES! These were the ticket! Tonight, as we finished off a batch of Maple Marshmallows, my son said "Mom, these are the best ones so far," and I had to agree. These Maple Syrup-Sweetened Marshmallows were fluffy and on the stiffer side.
Three Tips
Before we dive into the recipe, I am going to to give you three pointers.
FIRST: 235-245˚F is what we call the soft-ball candy stage. I found that it's best to remove the boiling sweetener from heat the instant it hits the 235˚F mark and certainly before the 245˚F mark. A syrup hotter than 245˚F may cause the marshmallows to flop.
SECOND: Do not over beat. Beating and beating and beating in hopes of creating a mile high pile of fluff seems to cause the mixture to cool to the point that it begins to set. This may not be the case for all marshmallow recipes … but seems to be for this one.
Beat just to the point when the mixture turns white, thickens up, and gently falls in ribbons (versus thin stream) from the beaters. Beat much longer—to soft peaks or when you feel the mixture pull at or climb up the beaters—and the mixture will begin to set and will be nearly impossible to spread (but not to worry, they'll still be good to eat!).
THIRD: No two batches of marshmallows have turned out exactly the same for me. So just roll with it and enjoy the fruits (however they turn out) of your labor!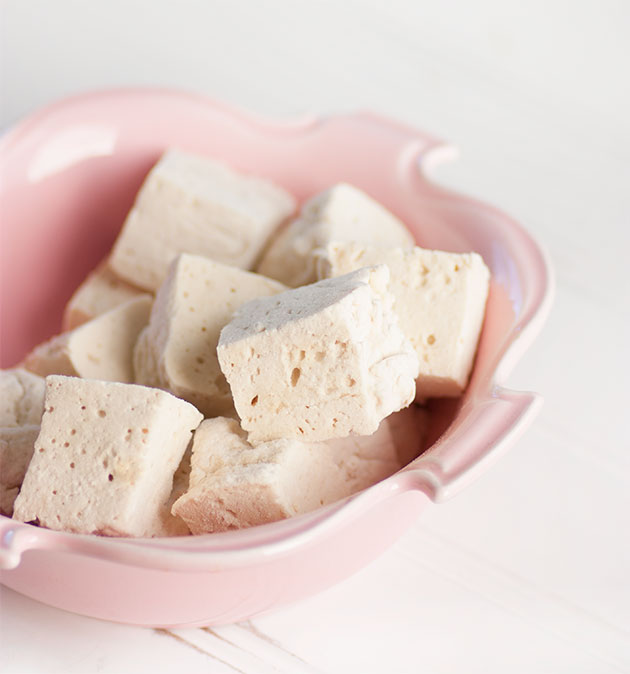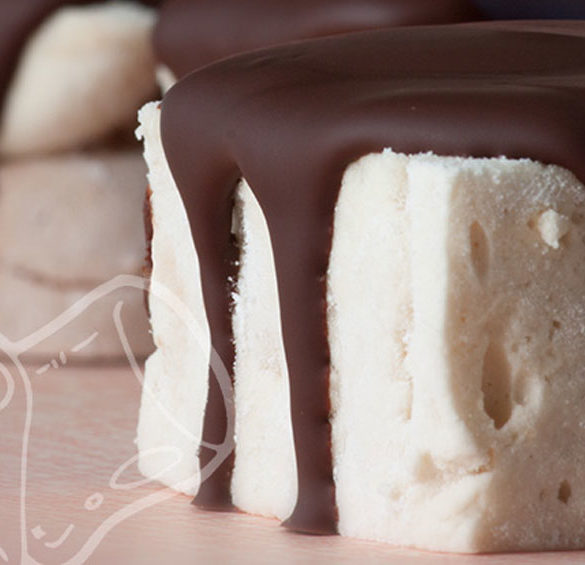 Ingredients
1/3 cup, plus more as needed, arrowroot starch, potato or corn starch
1/2 cup cold water
2 teaspoons pure gluten-free vanilla extract
1/4 teaspoon fine salt
2-1/2 tablespoon unflavored powdered gelatin
1 cup pure maple syrup
1/8 teaspoon cream of tartar (recommended but not necessary)
Instructions
Lightly coat an 8x8" square pan with oil. Generously dust sides and bottom with starch. Set aside.
Add water, vanilla, and salt to a deep, wide mixing bowl or bowl of a stand mixer. Slowly sprinkle gelatin over surface of liquids to bloom. Set aside.
In a large saucepan slowly bring maple syrup and cream of tartar (if using) to a boil over medium heat. Continue to boil, slowly increasing temperature to medium-high until a digital or candy thermometer registers the syrup at the low end of the soft ball candy stage—235?F. Immediately remove from heat!
Working quickly and carefully, slowly beat hot syrup into bloomed gelatin using a handheld or stand mixer. I have a handheld and do this in the sink in case of splatters.
Beat until the mixture thickens, turns white, and gently falls in ribbons when the beaters are lifted from the bowl—about 5-6 minutes.
Pour mixture into the prepared 8x8-inch pan. Quickly smooth top with oiled rubber spatula or fingers.
Dust surface with additional starch and let set 2-3 hours at room temperature or until firm to touch.
Unmold from pan onto a starch-dusted surface and slice into desired sized cubes (large or mini) with a sharp starch-dusted knife.
Dust marshmallows in starch as needed to prevent sticking.
Store in air-tight container at room temp for up to one week or freeze.
Notes
Like 'em Super Firm: If you like firm and structured marshmallows (like Kraft Jet-Puffed), add an extra 1/2 tablespoon gelatin, bringing the measure up to 3 tablespoons.
And I Bet You're Wondering... : Yeah, no, these beauties do not perform fireside or atop a sweet potato casserole. They don't "toast," they melt. But that's okay by me, I am just glad to know that I can make these fluffy treats for my kids to enjoy as is or floating in a mug of hot cocoa.
The Mixer: Gasp! I don't have a stand mixer, and sure wouldn't refuse one (hint, hint KitchenAid, this one would be sweet!). For those of you who do, I'd love your report. Did your marshmallows turn out insanely fluffy?
For Mini Marshmallows: Spread the whipped mixture in a slightly larger pan to achieve a height of about 1/2 inch.
Flavors: For chocolate marshmallows, add 2-3 tablespoons cocoa powder in the last minute of beating. For peppermint marshmallows, add 1/8 teaspoon (or to taste) of peppermint extract. For an extra vanilla kick, add a couple teaspoons of this powder (does contain a small amout of cane sugar) to the your final dusting starch. Mmmmmm. Still dreaming up more!
A Video Tutorial
I was tickled to find that the Craftsy Girls decided to give these Maple Syrup-Sweetened Marshmallows a go … on video. Thanks girls!