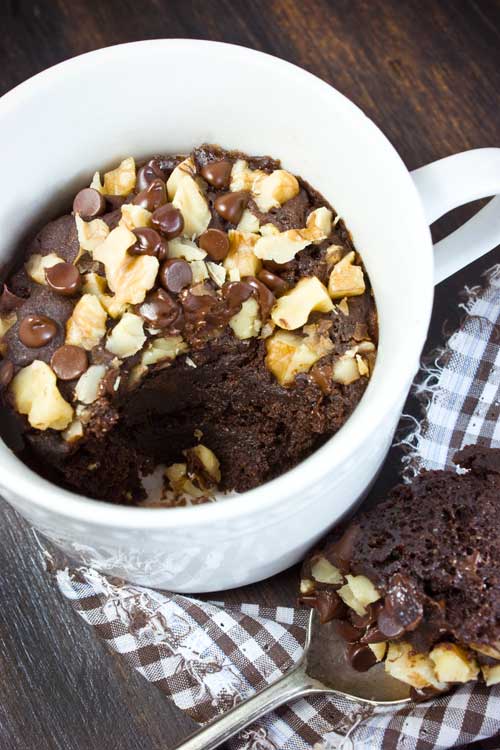 This cup of instant chocolate gratification was inspired by one of the many Chocolate Microwave Mug Cake recipes found online. I was aiming for "cake", but the result of my gluten-free, egg-free, and dairy-free experimentation resembled a brownie—dense, chocolately, fudgey. Oh yes! Call it what you may. I call it good!
A Special Happy Birthday Wish
Today is a very special day. My lovely grandmother Flo is celebrating her 93rd birthday! I just phoned to try to catch up with her but got grandpop instead. He told me that his "ever-loving bride" had left him a note earlier in the morning that read:
"Heart Clinic at 8:00
Hair done at 10:00
Lunch out at noon
Book Club at 1:00″
"She just goes zip, zap, zoop," Pop said. "No signs of slowing down yet!"
I often think of my grandmother—or Tutu as I have fondly called her all my life—and the many things she has taught me. One of the most profound being how to cook.
Back in 1985, grandpop underwent major bypass surgery. Following the surgery, Tutu overhauled their diet. Out went red meat and cheese, in came the whole grains and vegetables. Tutu traded her southern comfort cookbooks for the likes of Dr. McDougall. She took extreme measures to ensure pop would be around for years to come. Her dedication paid off.
Today my grandparents are in their ninety's, live in their own home, and continue to be active in their church and community. Their story of health continues to inspire me.
Happy birthday Tutu! Here's to another year of going "zip, zap, zoop." I love you! This brownie's for you!
Five-Minute Gluten Free Vegan Mug Brownie
Gluten-Free | Casein-Free | Citrus-Free | Corn-Free | Dairy-Free | Egg-Free | Fish-Free | Nightshade-Free | Peanut-Free | Potato-Free | Shellfish-Free | Soy-Free | Easily Tree Nut-Free (excluding coconut) | Wheat-Free | Sesame-Free | Yeast-free | GFCF | Vegetarian | Vegan
Makes: Makes 1 mug brownie
Prep Time: 2 minutes
Cook Time: 135 seconds
Ingredients:
5 tablespoons non-dairy MILK, I use So Delicious® Unsweetened Coconut
1 tablespoon COCONUT OIL or Spectrum PALM SHORTENING + some for greasing
1 teaspoon gluten-free VANILLA EXTRACT
15 drops liquid STEVIA concentrate
2 tablespoons COCONUT SUGAR
2 tablespoons (sweet rice) MOCHIKO FLOUR
1-1/2 tablespoons COCOA POWDER
1 tablespoon COCONUT FLOUR
1/8 teaspoon BAKING POWDER
Pinch SALT
Optional 1-2 teaspoons chopped WALNUTS
Optional 1-2 teaspoons Enjoy Life™ CHOCOLATE CHIPS
Directions:
Grease a smallish mug.
In a microwave-safe bowl, warm/liquify milk and oil (just until oil is melted).
Add to milk mixture; vanilla, stevia, sugar, rice flour, cocoa powder, coconut flour, baking powder, and salt.
Whisk until smooth.
Pour batter into greased mug and top with nuts and chocolate chips.
Microwave on high for 2 minutes and 15 seconds or until top is firm to touch and bounces back.
Allow to cool a 2-3 minutes. As with traditional brownies, the longer it cools the firmer it gets.
Enjoy!
Notes:
Mochiko Flour, or sweet rice flour, is available in the Asian section of most large grocery chains and at Asian markets. Koda Farms produces the Blue Star Brand. Its facilities are dedicated exclusively to the production of rice products which eliminates any chances of cross contamination with glutenful grains.