You know when you meet someone for the first time and instinctively know that you're going to hit it off? That's how I felt about Maggie Savage when I met her at a conference a year ago. She is a beautiful person inside and out and so comfortable to be around. Our families eat much the same way and there isn't a recipe recipe of Maggie's that I've tried and not loved.
Maggie is the author and creator of She Let Them Eat Cake, a gluten-free blog about life as an allergy-friendly family. She was pushed in that direction when her husband was diagnosed with Celiac Disease seven years ago and more recently with the shift to raise her two young children gluten-free as well. Maggie does a great job debunking the myths of a gluten-free lifestyle and shows us that allergy-friendly living is not only healthy, but also yummy! Maggie is also the co-founder of The Balanced Platter.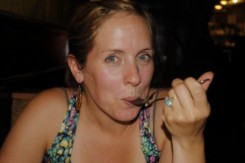 Guest Post: Rosemary Onion Crackers by Maggie Savage

I recently had the chance to shop at a Whole Foods (food bloggers dream about this) and I bought some really yummy crackers. They inspired me to make my own. Look out Mary!
These aren't your every day "Mommy can I have some peanut butter and crackers?" crackers, although I think they taste super yummy with almond butter. They're a little fancier—whip up a batch next time you're having your friends over for dinner. Trust me, they will love them and will be totally impressed. No one will notice that they're naturally gluten, dairy, and egg-free—and even qualify as grain-free!
These crackers taste even better the next day because the flavours have a chance to get all comfy with each other! So go ahead and make them up a day ahead if you're serving them for guests.
There are so many uses for these delicious crackers: croutons, as garnish on a warm bowl of homemade soup, or slathered in almond butter for breakfast. You could even use them as crunchy bread crumbs.
Rosemary Onion Crackers
aka "Maggie's Gone Crackers"
Here's what you'll need to make up a batch of these crackers.
Ingredients:
Flax Seed
Sea Salt
Rosemary
Onion Powder
Garlic Powder
Maple Syrup or Agave
Directions:
For measurements and directions, please head on over to She Let Them Eat Cake.
Happy snacking!