Enjoy this spreadable Raw Cultured Cashew Nut Cheese as is or mix in herbs, spices, salt, honey, jam—whatever you want! There's a world of possibilities.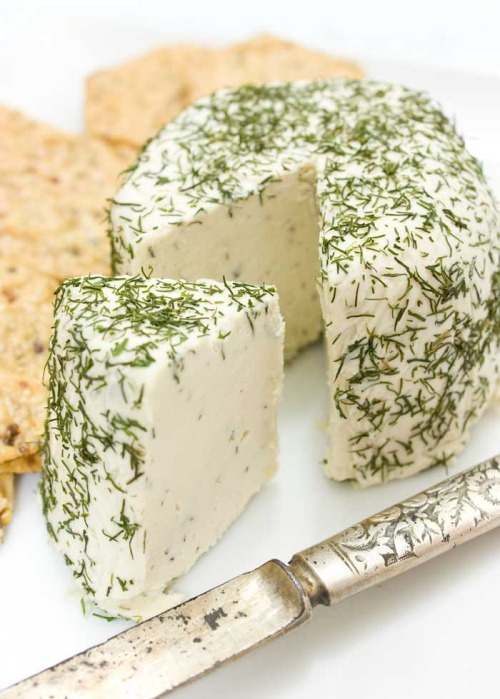 Raw Cultured Cashew Nut Cheese
Feeling a little adventurous today? Let's go make nut cheese!
Honestly, the first time I came across a recipe for honest to goodness cultured nut cheese I was a little unsure. I had tried my fair share of hippie recipes and just wasn't convinced Raw Cultured Cashew Nut Cheese would be all it was cheesed up to be.
But let me tell you, I gave it a try and it WAS!
Even one of our pickiest eater friends thought it was pretty darn tasty!
Once cultured, you can enjoy the "cheese" as is or mix in herbs, spices, salt—whatever you want! There's a world of possibilities. Here I stuck to dill and mixed in a bit of salt.
Voila, spreadible, edible non-dairy cheese.
Next go-round I'm thinking pepper jack!
What Probiotic Should I Use?
For the probiotic I recommend Ther-Biotic® Complete by Klaire Labs or Non-Dairy Multidophilus by Solaray (available at most natural food stores). The culturing time depends on how warm your house is and how "ripe" you like your cheese.
Raw Cultured Cashew Nut Cheese
Ingredients
3 cups raw cashew nuts (whole or pieces)
Probiotic powder (see notes)
Filtered water for blending
Instructions
Soak cashews in water 8-10 hours.
Drain and rinse cashews.
Add soaked cashews, probiotic powder and 1/2 cup water to container of a high powered blender.
Blend on high until smooth.
Add a little more water, if needed, to aid in blending.
Drape a double layer of cheesecloth over a mesh colander and place over a bowl so that liquid can freely drip into bowl.
Pour nut mixture into lined colander and fold edges of cheesecloth over to cover.
Place in warm spot and allow to culture 13-15 hours.
Transfer to airtight container and refrigerate (see notes for molding and flavoring the cheese)
Use within 5 days.
Notes
Solaray Multidophilus Non-Dairy Probiotic capsules are available at most natural food stores. The number of capsules you use will depend on the strength of the probiotic. I aim for 40-50 CFUs. Simply open each capsule and pour contents into blender with soaked cashews.
For a flavored and/or shaped cheese; Once cultured, stir in a little salt and dried herbs if desired. Dried dill, dried Italian herbs, and lemon pepper are yummy bets. Looking for a sweet note? Mix in some jam, jelly or honey! Scoop into a small bowl lined with plastic wrap. Smooth top and chill until firm. Un-mold cheese, remove plastic wrap and gently pat additional herbs onto tops and sides.
https://www.floandgrace.com/2012410raw-cultured-cashew-cheese-html/
© 2016 - 2022 Flo and Grace.