This week I was hoping to post a new yogurt recipe that's been in the works. Alas, sigh ... I ran out of a key ingredient in the final test round.
So thank you, Ricki Heller, for coming to my rescue and sharing a fabulous recipe for a no-cook, gluten-free, grain-free porridge. I have been making this regularly for months now—so good, and the kids love it, too!
Ricki is a whole foods chef, recipe developer and writer. Her blog, Diet, Dessert and Dogs, features stories about anti-candida living with over 600 whole-foods recipes free of wheat, dairy, eggs or refined sugars—plus regular commentary from her two adorable dogs. Her cookbook, Sweet Freedom, is the only Canadian book recommended by Ellen DeGeneres on her website. Ricki lives just outside of Toronto with her husband and two "girls."
Ricki and I share similar tastes and it's a sure bet that I will always find a great recipe on her site that fits my criteria. She was a lifesaver during our time on the Anti-Candida diet—and still is! If that is a realm you are venturing into, you will want to bookmark Diet, Dessert and Dogs right now.
In addition to the many recipes you'll find on her website and her hardcover cookbook, Sweet Freedom, Ricki has published three e-cookbooks, all of which are gluten-free, refined sugar-free, egg-free and dairy-free, with many grain-free options, too! Support a blogger … order yours today:
Desserts without Compromise Ebook
____________________________________________________________________________________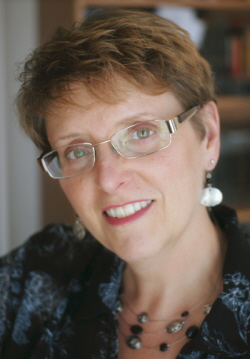 Guest Post: Breakfast Porridge by Ricki Heller
One of my favorite childhood comfort foods is oatmeal. I mean, who among us has never tasted a big bowl of steaming, thick and sludgy oatmeal? Add a splash of milk and a sprinkling of brown sugar, perhaps an additional scattering of raisins, and you've got a hearty breakfast enjoyed by hoards of children the world over.
I do still love my oatmeal, but these days, I often opt for the grain-free kind. That's right: following a grain-free diet does not mean you have to forfeit that bowl of rich, creamy morning goodness! This recipe for almost-instant, nut-and-seed based porridge is so much like "the real thing" that you could even fool your family (but you want to let them in on the secret so they can appreciate all the amazing nutritional value in this cereal—and compliment you on your culinary sorcery!). And the beauty of this breakfast is that it doesn't have to cook on the stovetop the way true oatmeal does.
Feel free to top your cereal with berries or other chopped fruit, raisins, or toppings of your choice; this recipe is very versatile.  However you prepare it, you'll be guaranteed a full serving of pure winter comfort in a bowl.
Easy No-Cook, Grain-Free Breakfast Porridge
This porridge is quick and easy, and infinitely variable: use sunflower or hemp instead of the pumpkin seeds; substitute another favorite nut instead of the walnuts; include the coconut or omit it, as you wish. It is suitable for all stages of the Anti-Candida Diet.
To tempt you and show you how chock-full of goodness this porridge is, here are the ingredients you will need. For the complete recipe, click here and you will be redirected to the original recipe over at Diet Dessert and Dogs.
Ingredients:
Unsweetened Coconut Flakes or Shreds
Raw Pumpkin Seeds
Raw Flax Seeds
Chia Seeds
Raw Walnuts
Cinnamon
Hot Water
Vanilla Liquid Stevia or Coconut Sugar
Coconut or Nut milk
Fresh Berries or Dried Apricots
Directions:
For measurements and directions, visit Diet Dessert and Dogs.
Note:
You can make a large batch of this cereal in advance and store it in single servings in the freezer so it's ready to go when you need it: defrost overnight in the refrigerator and enjoy!