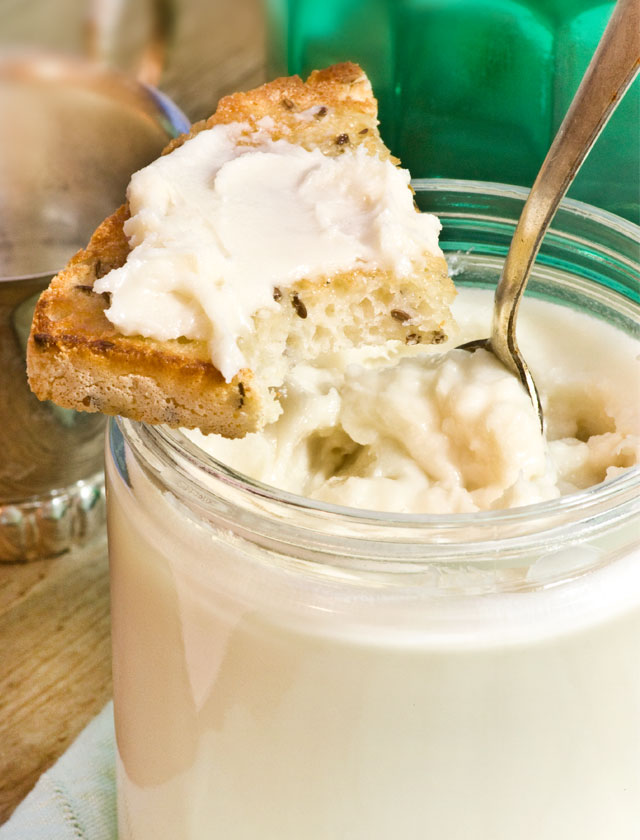 What is Coconut Butter?
Coconut butter is a densely nutritious spread made from whole, raw coconut flesh and is loaded with medium-chain fatty acid-rich oil, dietary fiber, protein, vitamins and minerals. I've been using it as a spread on toast instead of peanut butter or almond butter.
A reader and I recently had a conversation on the best way to make coconut butter. We love brands like Nutiva Coconut Manna but knew there just had to be a way to make it from scratch. So off to the kitchen I went.
I blitzed shredded coconut in a food processor.
No go. Not smooth enough.
I tried a mini batch in my coffee grinder.
No good. It made some pretty nice coconut meal though.
I thought about ordering a Blendtec Twister Jar for my Blendtec, but that meant forking out a wad of money.
Finally I landed on a technique that worked!
This stuff is unbelievably easy to make in a high-powered blender such as a Blendtec, OmniBlend or Vitamix. You can sweeten it, add some cocoa powder, or leave it as is. This recipe yields a coconut butter that remains spreadable at room temperature.
How to Make Coconut Butter
Gluten-Free | Casein-Free | Citrus-Free | Corn-Free | Dairy-Free | Egg-Free | Fish-Free | Nightshade-Free | Peanut-Free | Potato-Free | Rice-Free |Shellfish-Free | Soy-Free | Tree Nut-Free (exception of coconut) | Wheat-Free | Grain-Free | Sesame-Free | Sweetener-Free | Yeast-free | GFCF | Vegetarian | Vegan | Raw | Paleo
Ingredients
5 cups shredded COCONUT, unsweetened (not reduced fat or fat free)
1/3 cup COCONUT OIL, liquefied
Instructions
Add 3 cups coconut and oil to high-powered blender.
Blend on high until smooth, scraping sides as needed.
Add another cup of flakes and blend until smooth.
Add final cup of flakes and blend on high until super smooth, 1-2 minutes.
The mixture will be runny. Pour into airtight container and transfer to fridge to firm up.
Store at room temperature or in fridge.
https://www.floandgrace.com/2012427how-to-make-coconut-butter-html/
© 2016 - 2022 Flo and Grace.
How to Use Coconut Butter
This week I turned to Facebook for ideas on how you use coconut butter. Here's what you said:
Deanna: Oh man a million things. I love coconut butter cookies (recipe here)
Suzanne: I mix it with cocoa powder and put it on coconut milk ice cream or banana soft serve. I also love it on sweet potatoes.
Maggie: I'm dreaming of a frosting that's made of coconut butter…
Rachel: Whipped with some maple syrup, vanilla, and a little extra coconut oil makes a really good frosting! I also use about a tablespoon blended into about one cup water as the "coconut milk" in my smoothies.
Deanna: I do what Rachel does, too – sub it with some warm water for coconut milk (in a pinch). I also ALWAYS make it from scratch. I've never bought it already made.
Monique: It's great to thicken up Thai curries 🙂
Alta: I eat it with a spoon. I've also used it in cookies (like a thin nut butter) and while making a "frosting" for cinnamon and orange-cranberry rolls. But honestly, eating it with a spoon is best.
Jenn: Brown rice krispy treats. Use the coconut butter instead of marshmallow.
Leanne: Frosting for cupcakes!
Kelly: I just mix coconut butter, cocoa and date paste together for a sweet paleo treat…not exactly a recipe but it hits the spot.
Audrey: As part of the ingredients in opera fudge (white).
And Love it Too: I have used mine in sweet potato mash, on top of shrimp (when my shellfish allergic child was away at scout camp),  and in place of butter on grain-free pancakes and waffles.
As for me, coconut butter gives these crispy on the outside, chewy on the inside maple macaroons a double dose of coconut goodness.
Thanks for all the great ideas!