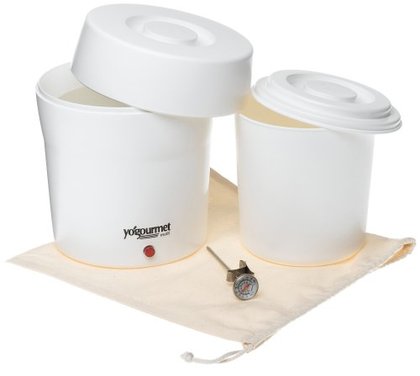 I have received a handful of requests for recommendations on yogurt machines so thought I'd share my yogurt making set-up with you. These are my essentials for making both cow's milk and dairy-free yogurt.
The Machine
You don't necessarily need a machine to make yogurt. All that is required is a quiet, consistently warm spot (usually 100˚-110˚F). I just am partial to machines because they take the worry and guess-work out of yogurt making. You plug it in and forget about it. Pretty fool-proof if you ask me. There are two styles of machines; the single container and the multi-container.
Yogourmet™
My top pick for yogurt machines is the single container Yogourmet Multi Electric Yogurt Maker (pictured at top). I find making one 2-quart batch much more convenient than making several individual servings (less pouring, fewer dishes to wash). But it's a personal choice.
If you are new to yogurt making and are not ready to make a $50 investment in a machine, swing by your local thrift shop. You just may find a nice, lightly used one. I picked up a second Yogourmet Multi for $2 at Goodwill which I loan out to friends.
The only drawback of the Yogourmet Multi is that the fermentation container is plastic. Now it's probably safe and fine to use, but I take all precautions to avoid any leeching of chemicals into our food. So, I have replaced the plastic insert it ships with with a 2-quart (1/2 gallon) glass jar like this one:
You can purchase these 1/2 gallon glass inserts from Lucy's Kitchen Shop for under $10 or check around locally. I saw them at Sprouts in the bulk food section once.
Euro Cuisine™
If you prefer individual servings, Cultures for Health recommends the Euro Cuisine which comes with seven 6-ounce glass jars and lids:
YoLife™
Now this is cool! This versatile yogurt maker can be used with the included seven 6 ounce glass jars, canning jars, or an optional 64 ounce (1/2 gallon) glass jar. Click here for info on this machine.
Yogotherm™
Live off the grid? Here's a reliable way (that's the manufactuer's claim, not mine) to make yogurt without electricity. The insulated container maintains the appropriate temperature throughout the culturing process. Click here for more details.
There's no rocket science that goes into yogurt machines. They really are just little incubators. The critical thing is that they maintain that consistent temperature (usually between 100˚-112˚F).
The Thermometer
Whether you are working with cow's milk, goat's milk, or plant-based milk, you will be heating the mixture. It is essential that that mixture cool to a safe temperature (I am for 95-100˚F) before adding the yogurt starter. Too hot and the friendly bacteria that cultures the milk will die (this usually happens around 118˚F). I have gone through six thermometers and have learned that hard way that WATERPROOF and digital is the way to go. This one has performed like a champ!
The Starter
Back in the day when I used to make cow's milk yogurt, it was possible to culture the milk with a half cup or so of plain storebought yogurt. However, with non-dairy milk I have always used the direct-set (dried yogurt culture) method. In my research, most sources say that alternative milk yogurts (like almond, cashew, coconut and rice) are most succcessfully made using the direct-set method.
One tip I can provide when selecting a non-dairy yogurt starter or priobiotic capsule is to select one that includes the lactic acid-producing bacteria Lactobacillus Bulgaricus and Streptococcus Thermophilus. In the United States, the USDA defines "yogurt" as containing these two strains of bacteria.
Cultures for Health™
Cultures for Health Vegan Yogurt Starter is a great yogurt starter that has proved itself a winner over and over again. Please beware that this starter may not be 100% t0p-8 allergen free and here's why. Vegetal labeling reads that that "this product is produced in a facility that also manufactures soy, gluten and dairy." In addition, barley (a gluten-containing grain) is used as a fermentation nutrient.  The manufacturer has determined that "fermentation nutrients are outside the scope of US and EU food allergen labeling requirements." Had I not dug around for, nor reviewed, the manufacturer's spec sheet, this bit of knowledge would have gone unnoticed. So this is where I leave it up to you decide what that means to you. I am not a food scientist, and as great as this product is, if I were super sensitive to gluten, I would avoid it.
Lifetrients Child's ProBio 25™
NourishLife, a sponsor of this site, makes a probiotic that is virtually comparable to Klaire Labs Ther-Biotic Complete—the probiotic I have recommended in the past for culturing yogurt. The reason I switched to NourishLife's Lifetrient Child's ProBio25 probiotic is that anyone can order it.Klaire products continue to be sold exclusively through healthcare professionals and authorized dealers, making them a hassle to get.*
*You may purchase Ther-Biotic Complete off of Amazon, but please ensure that the product is shipped with an icepack—not all suppliers do.
GI ProStart™
GI ProHealth's GI Prostart his is another nice starter but with one caveat. I like the company's commitment to providing a hypoallergenic product, but do note that "the yogurt strains are recognized to have exposure to some dairy peptones (broken down molecular structures) during their fermentation. The final culture is filtered and has less then detectable levels of dairy proteins. Considered dairy-free yogurt based on the standards established in the nutritional industry. No gluten containing ingredients are used in the production of this product."
Disclaimer: Manufacturing processes can change at any time and without notice. And because even minuscule amounts of dairy or gluten or other food allergens may pose a threat to some individuals, I must defer to you, the reader, to research and decide which yogurt culture or probiotic powder is safe for you and your family.
A Big Pot
I heat my milk in a 5-quart stainless steel pot, don't use anything smaller. When heating milk, watch it carefully. Look away for a second and you could have a messy boil-over on your hands.
A Whisk
When adding the powdered culture to the cooled milk, you want to mix it in thoroughly to distribute evenly. A silicon-coated whisk comes in handy for this.
Yogurt Recipes
Links to yogurt recipes on this site:
Coconut Milk Yogurt – Easiest recipe!
Almond Milk Yogurt
Almond & Hemp Milk Yogurt (my first yogurt post and painfully long 🙂
Why Yogurt Can Fail
Milk is too hot when the culture is added
Dead, or partially dead, starter
Unsanitized cooking tools
Inconsistent temperature during fermentation
Introduction of bad bacteria (from air and/or cross-contamination with unclean utensils). Tell-tale signs are pink, brownish or grayish mold on surface of yogurt.
Happy yogurt making. I hope this post has been helpful.