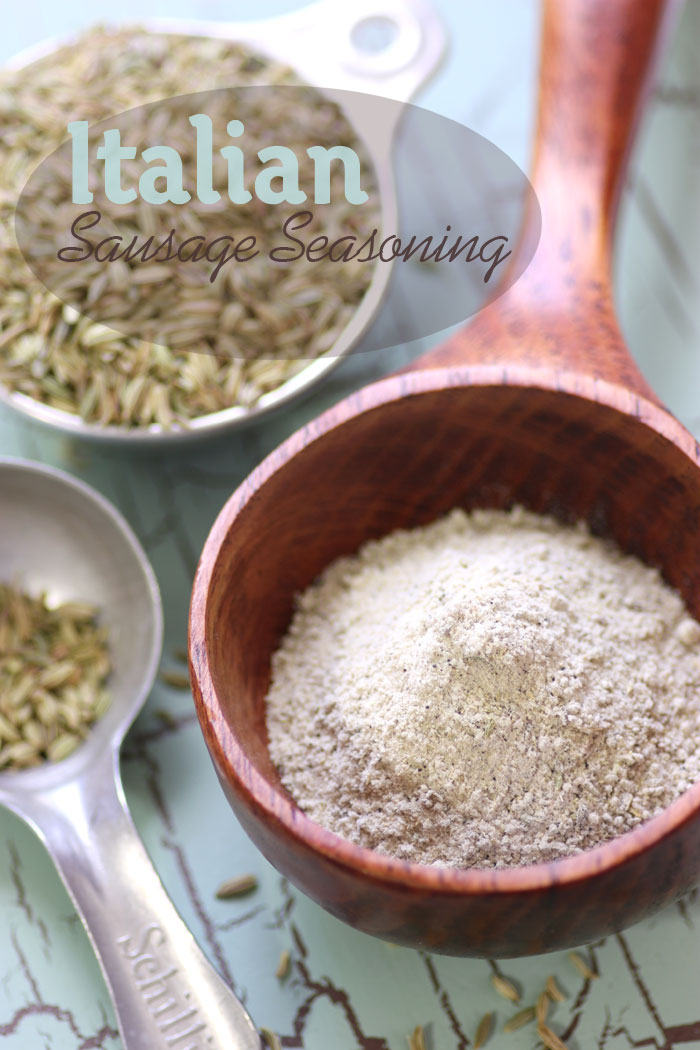 Here's a simple 4-ingredient copycat of Penzey's Spices Italian Sausage Seasoning.
Every couple of months we make it down to Denver where I hit the Cherry Creek Penzey's Spices store to "provision up" on flavors from the around the world—Vietnamese Cinnamon, French Thyme, Chinese Five Spice—to name just a few.
Well, it's been more than a couple of months, supplies are running low, and last week I found myself in a bind. You see, the kids and I are saddling up and heading to Idaho later this week and I wanted to cook up a huge pot of Bolognese to freeze for my husband so he won't whither away while I'm gone.
But agghhhh!
I was out of Penzey's Italian Sausage Seasoning—the secret ingredient in my Bolognese!
What to do. What to do!
So I made some.
And it was fantastic!
I've been sprinkling it on my morning scramble, on veggies, on quesadillas, you name it. My friend Kelly over at The Spunky Coconut made grilled chicken breasts with it—brushed on a little oil and seasoned liberally. Funny though, I have yet to make Italian sausage with it.
This blend is a little lighter on the salt than the Penzey's version so if you like yours extra salty, just add a 1/2 tablespoon more.
As for the Bolognese recipe, you can find it here. Crock pottin' easy!
Lexie's Kitchen Italian Seasoning Blend

Gluten-Free | Casein-Free | Citrus-Free | Corn-Free | Dairy-Free | Egg-Free | Fish-Free | Nightshade-Free | Peanut-Free | Potato-Free | Rice-Free | Shellfish-Free | Soy-Free | Tree Nut-Free | Wheat-Free | Grain-Free | Sesame-Free | Yeast-free | GFCF | Vegetarian | Vegan | Paleo (omit sugar)

Ingredients:
1 tablespoon FENNEL SEED
1-1/2 tablespoon SEA SALT
1-1/4 teaspoon TELLICHERRY BLACK PEPPERCORNS
1/2 teaspoon granulated SUGAR
Directions:
Add all ingredients to coffee or spice grinder.
Grind to a fine powder.
Store in airtight jar.
More DIY Spice Blends

Blackened Seasoning Mix over at Gluten-Free Easily
Taco Seasoning over at Alisa Cooks
Holy Curry Batman over at The Urban Poser
Bahrat Spice Blend over at Diet Dessert and Dogs
Ras al Hanout (Moroccan Spice Blend) over at Cara's Cravings
Spice Blend over at The Balanced Platter via Tasty Eats At Home
Jamaican Curry Powder Blend over at Tasty Eats At Home
Lexie's Beef Stew Seasoning here at Lexie's Kitchen
Lexie's Chili Seasoning here at Lexie's Kitchen