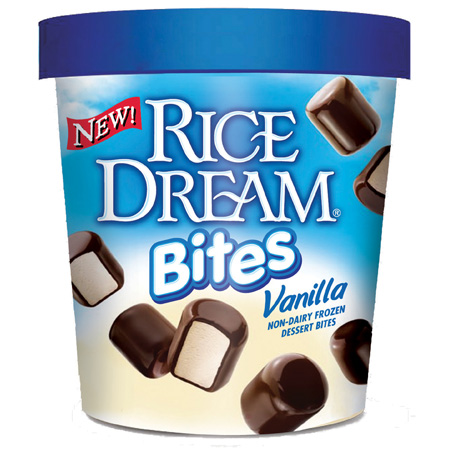 Where have I been?
Obviously not perusing the ice cream novelties section of the grocery store!
Long ago I wrote off that dream—the one of my kids and I swinging into Baskin Robbins or Dairy Queen for a sweet treat. With intolerances to gluten and dairy, that Norman Rockwell experience would never be—could never be—ours. And it made me sad. I mean come on! I experienced it as a child, why couldn't they?!
Well … [yippee skippy, yippee skippy] now I/we/they can.
Feeling the heat of an unusually warm May day, and grocery shopping on an empty stomach [tsk tsk], I thought I would inspect the ice cream offering at our local Natural Grocers. I scanned the non-dairy ice cream shelf for that handy dandy "gluten-free" tag (love those!) and behold … were my eyes a foolin' me? Could it be? A gluten-free, dairy-free ice cream novelty?
Rice Dream® Bites—Simply Divine
I snatched up a carton of these Rice Dream Bites. If you can, you have got to try them! Some compare them to Edy's® Dibs (never had 'em so I wouldn't know). I compare them to bite size Dairy Queen Dilly Bars—nuggets of sweet vanilla rice ice cream coated in rich, thick chocolate. They are lactose, cholesterol and gluten free, with no trans fat. I especially like that they are bite-sized so that I can ration out smaller servings instead of doling out entire bars (which Rice Dream also makes).
Rice Dream Bites debuted back in 2009—hence my "where have I been?" I've been missing out! Last year Almond Dream Bites were added to the line-up. I am sure they are just as awesomely good. Thank you, thank you, thank you Rice Dream and the Hain Celestial Group for offering the great foods you do. You've made it possible for my sons and I to take part in an American tradition—enjoying an ice cream novelty on a park bench sharing mutual "mmmmmm's."
Rice Dream® Bites Ingredients
This information was taken from the Rice Dream website. Manufacturers may change ingredients at any time. Always consult the product label.
Filling: water, organic brown rice syrup, organic rice maltodextrin, organic agave syrup, organic expeller pressed oil (sunflower and/or safflower and/or canola), natural flavors, organic tapioca starch, soy lecithin, sea salt, guar gum, carrageenan.
Coating: coconut oil, evaporated cane juice, unsweetened chocolate, soy lecithin, vanilla.
CONTAINS: SOY AND COCONUT. DUE TO SHARED EQUIPMENT, UNSWEETENED CHOCOLATE MAY CONTAIN TRACES OF MILK. Manufactured in a facility that uses peanuts and tree nuts. Good manufacturing practices are used to prevent the introduction of these or any other unlabeled allergens.