Back in January I picked up a Braun juicer at a local thrift shop. Here's a picture of the bad boy. He's older. But I'm cool with that. He gets the job done and personally, I love his avocado green accents.
As I do with many of my thrift shop finds (like that hand-crank meat grinder), I put Mr. Braun away for a rainy day.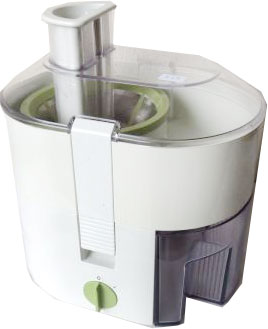 One such rainy day in June it was time. Time to give this beast (actually, he's nice and compact) a run for his money (I dropped a whopping $9 for him). And well, the timing couldn't have been better. Farmers markets were in full swing, brimming with fresh produce for my experimentation.
Over the course of the summer, Mr. Braun and I have fallen in love. And below is the juice "recipe" that sealed the deal.
If you've been considering a juicer, check your local thrift shops or Craigslist. I was able to give juicing a try without breaking the bank. In time I may fork out more for a higher-end machine, but for now Mr. Braun's serving me well.
I recently polled Lexie's Kitchen Facebook followers about the best juicers on the market. Lot's of good info (thanks everyone!). To view the recommendations, please visit my Facebook page and scroll to August 2012. And if anyone knows how to link to Facebook threads, let me know : )
Spicy Vegetable Juice
Ingredients:
2 large CARROT
2 stalks CELERY
1-2 large TOMATOES
1/2 medium CUCUMBER
1/2 medium BEET
1/2 green BELL PEPPER
1/2 lemon
1/4 small ONION
Handful CHARD (or other green)
Handful CABBAGE
Small GARLIC CLOVE
3/4 teaspoon HOT SAUCE (used Cholulas)
1/4 teaspoon SEA SALT
Directions:
Juice in juicer.
Serves 2-4.
______________________________________________________________________________
And wait 'till you see my next post. I'm juicing something rather out of the ordinary and I will share with you what I made. I know, the suspense is just killing you. Ha!
Got a favorite juice recipe? Leave it in the comments, I need more inspiration.
xoLexie