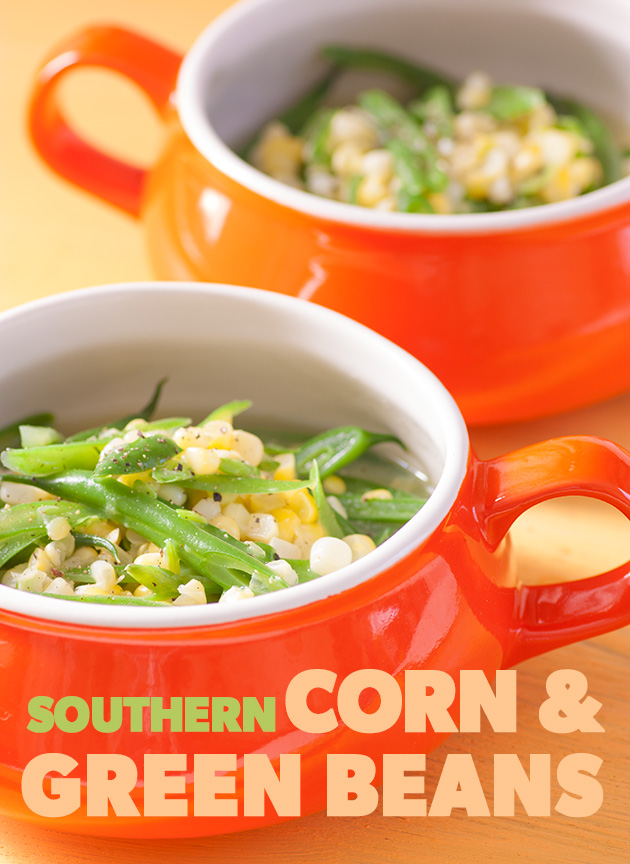 I cherish the stories my grandparents share of the days of their childhood in North Carolina. And I especially love those revolving around food.
Recently I asked my Tutu if there was a story behind her Southern Corn and Green Beans.
"Of course," she chuckled. "I remember mother had stepped out of the kitchen and father came in to steal a peek at what was simmering on the stove. When he saw that it was corn and beans he exclaimed 'this woman just don't know how to cook beans!' and marched across the kitchen, cut a couple of slices off a hunk of back fat, and returned to throw them in the pot."
This is my Tutu's adaptation of that Corn and Green Bean recipe. She takes after her mother in that she leaves out the back fat. 🙂 Either way, I love this dish!
Southern Corn and Green Beans Recipe
Ingredients
2 ears fresh-picked CORN, husked
1/2 pound fresh GREEN BEANS, trimmed
1 cup CHICKEN BROTH, divided
1-2 tablespoons BUTTER SUBSTITUTE (I use Earth Balance Soy-Free), optional
2 teaspoon ARROWROOT STARCH or corn starch
SALT and PEPPER to taste
Instructions
Slice corn off cobs (see top below).
Cut beans French-style by slicing thinly on the diagonal (here is a video to show you how) or by using this gadget or this gadget.
In a small bowl combine 1/4 cup water and arrowroot starch. Set aside.
Add green beans to pot along with remaining 3/4 cup chicken broth. Cover and simmer until tender-crisp.
Add corn kernels and simmer another 2-3 minutes.
Stir in butter substitute and arrowroot slurry. Return to simmer and cook another minut.
Season to taste with salt and pepper. Serve.
Notes
I make big batches of Corn and Green Beans and freeze in zip top bags for a quick weeknight side dish. Just need to reheat and done. Slicing corn off the cob is a breeze when you use a tube pan (like a bundt or angel food). Just prop the ear of corn in the tube and slice your way around. All the kernels neatly collect in the bottom of the pan.
https://www.floandgrace.com/2012918southern-corn-and-green-beans-recipe-html/
© 2016 Flo and Grace.