One of my favorite cookbooks of 2013 is True Food: Seasonal, Sustainable, Simple, Pure by Dr. Andrew Weil, Sam Fox, and Michael Stebner.
A recipe in the book that I have made over and over again is for Immunity Soup. It's soothing, comforting and healing—I could sip it all day!
Yesterday I thought I would try making it in my Cuisinart Pressure Cooker (my favorite way to make broth) and change the recipe up a bit (I can't help myself).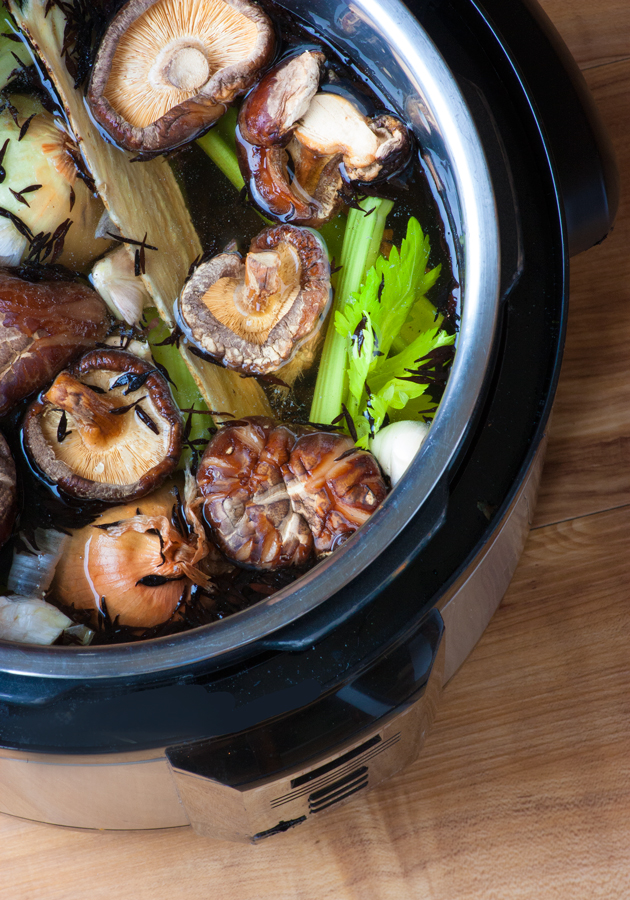 I have been sipping it out of a mug and ladling it over steamed veggies (if I could pick one it would be carrot noodles!). Most of the ingredients in this broth have some kind of medicinal power and it's really hit the spot with temperatures in Colorado dipping into the negative!
If you don't have a pressure cooker, I'd suggest simmering everything in a large, covered stockpot for 2-3 hours.
Ingredients
10 cups WATER
20 inches dried ASTRAGALUS ROOT (check your local natural foods store)
6 dried SHIITAKE MUSHROOMS
5 cloves GARLIC, smashed
3 stalks CELERY, broken into large pieces
2 tablespoons HIJIKI seaweed or 1 5-inch piece KOMBU seaweed (here's what it is)
2 inch piece GINGER, roughly chopped
1 ONION halved, go ahead and leave the skins on
1 tablespoon SEA SALT
1/8 teaspoon ground WHITE PEPPER (optional, add 1/8 teaspoon more for a dose of heat)
Instructions
Place all ingredients in 12 cup or larger pressure cooker.
Cook on high setting for 30 minutes.
Let broth cool a bit, then strain, reserving mushrooms.
Slice mushrooms and return to broth (they are soooo good!).
Serve alone or over steamed broccoli, julienned/noodled carrots, baby bok choy—any veggies really—and top with sliced green onions.
https://www.floandgrace.com/2013124immunity-broth-html/
© 2016 - 2022 Flo and Grace.