These Passion Fruit Cheesecake Parfaits are unbelievable—and not just because they are dairy free. You'll find Passion Fruit to be such a unique tasting fruit—floral, tart, sweet.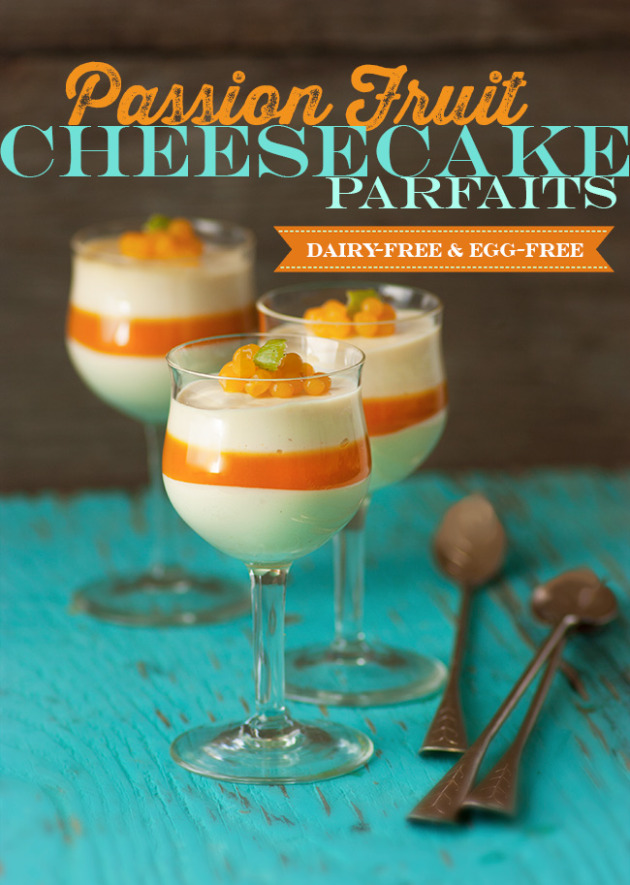 I never thought a trip to the grocery store would send my heart all aflutter. But this week it did. For lo and behold there, next to the frozen strawberries, was passion fruit puree!
Giddy and armed with my frozen passion fruit puree, I blitzed home and set out to make a dessert reminiscent of one my mom used to make that involved Cool-Whip and cream cheese. And these Passion Fruit Cheesecake Parfaits are what I came up with.
If you like cheesecake and if you like sweet-tart—like that of lemon—you are going to LOVE this sweet treat!
I've chosen to serve them as dessert shots because they are pretty rich. With these, a little bite goes a long way and are perfectly satisfying. For more dessert shot ideas, head on over to my Dessert Shots Pinterest board.
Passion fruit—or lilikoi as we called it growing up—is a dearly loved fruit in Hawaii. The season is much anticipated. As kids we'd scour the gulches for them so that mom could make us a pitcher of fresh lilikoi juice, or we'd simply break them open and slurp out the seeds.
Lilikoi grows on a vine and produces one of the most exquisite flowers I've ever seen. The fruit is distinctly sweet-tart and exotic. Here is a picture of the flower. In the picture above you see the lilikoi vines that grow high up in the tops of the Ohi'a Lehua trees outside of my mom's kitchen window. Can you make them out to the right?
Passion Fruit Cheesecake Parfait Dessert Shots
Ingredients
For the Cheesecake Layer

1-1/3 cup raw CASHEW NUTS, soaked 4-6 hours and rinsed
1/3 cup melted virgin COCONUT OIL
1/3 cup melted HONEY (use agave to make it vegan)
3/4 cup nondairy plain or vanilla YOGURT
2 teaspoons fresh LIME JUICE
1/8 heaping teaspoon SALT

For the Passion Fruit Layer

3/4 cup PASSION FRUIT PUREE
3/4 teaspoon GELATIN
1/4 cup HONEY
Instructions
For the Creamy Cheesecake Layer

Combine Creamy Cheesecake Layer ingredients in the container of a high-powered blender.
Cover; blend on high until super smooth. Stopping blender to scrape sides as needed.
Pour the first layer: Divide half of the cheesecake layer mixture between seven 4-ounce glasses. Transfer to refrigerator to chill. Keep remaining cheescake mixture at room temperature.

For the Passion Fruit Layer

Pour passion fruit puree into a small sauce pan. Sprinkle gelatin over surface and allow to bloom, 2-3 minutes.
Bring to boil and cook just until gelatin is dissolved, about a minute.
Add honey and stir to combine.
Chill this mixture until it thickens up a bit but remains pourable.
Pour the second layer: Divide the Passion Fruit gelatin evenly among all glasses. Return to refrigerator to chill until firm.
Pour the third layer: Divide remaining cheesecake mixture evenly among glasses. Transfer to refrigerator to chill until set.
Garnish with lime zest and/or Passion Fruit Caviar if desired.
https://www.floandgrace.com/2013323passion-fruit-cheesecake-parfait-dessert-shots-html/
© 2016 - 2022 Flo and Grace.
I am soooo hoping that you are able to find passion fruit puree at a local grocer because these parfaits are "broke da mout," as we'd say in Hawaii. Here is the brand I found at Safeway. A store that sells Hispanic grocery products is also a good bet.