We've been on a shabu-shabu-style one-pot Asian noodles kick lately. Load up with all veggies or add your favorite protein. So easy and in one pot!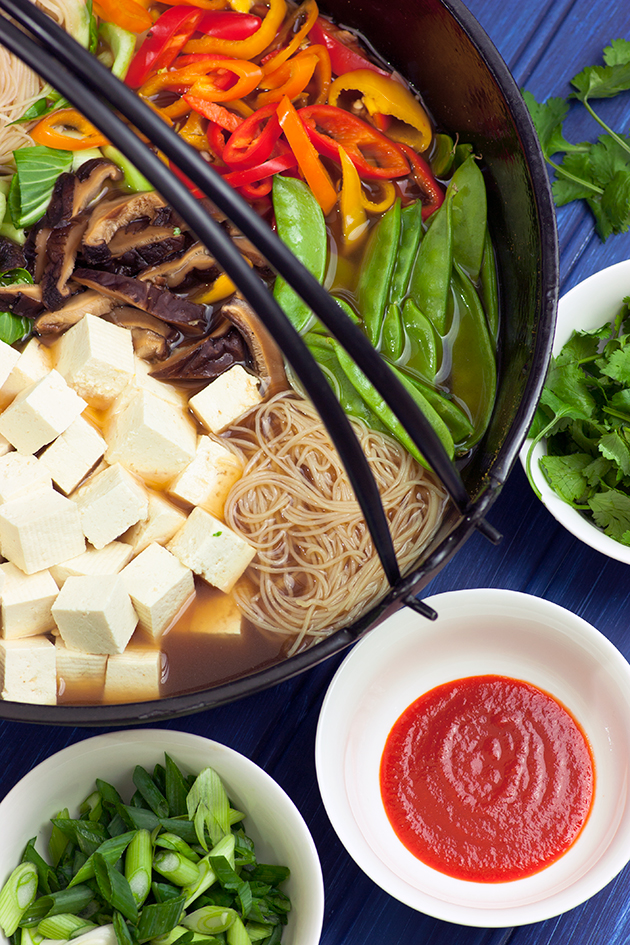 One-Pot Asian Noodles
We've been on a one-pot shabu-shabu-style Asian noodle kick lately. The foundation of this warming one-pot Asian noodle soup is
this recipe
originally featured in an issue of
Sunset Magazine
from way way back.
I've added a few more ingredients like kombu for an extra dose of iodine and iron, shiitake mushrooms and ginger for an immunity boost and sriracha for a bit of heat. Into the lovely broth go noodles—either rice sticks or mung bean threads. On top of the noodles goes your protein of choice and loads of veggies. Cover, steam, and that's it! All done in about 30 minutes—and in one pot. I like that part a lot.
Ingredients
4 ounces RICE STICKS or bean thread threads
3 cups CHICKEN BROTH
2 cups WATER
1/4 cup MIRIN
1/4 cup gluten-free SOY SAUCE or coconut aminos
3 dried SHIITAKE MUSHROOMS
1 stick KOMBU, optional
1/4 teaspoon SRIRACHA sauce, optional
2 teaspoons gluten-free FISH SAUCE
1 tablespoon HONEY
2-inch piece fresh GINGER, peeled and sliced
12-16 ounces PROTEIN of choice (see Notes)
3-4 BABY BOK CHOY, sliced
4 ounces MINI PEPPERS (or one red bell pepper), stemmed and thinly sliced
4 ounces SUGAR SNAP or snow peas
3 GREEN ONIONS, white part and some of the green sliced on the diagonal, for garnish
1/2 cup chopped CILANTRO for garnish
Instructions
Soak noodles in a large bowl of warm water for 3-5 minutes. Drain and set aside.
In a large pot combine chicken broth, water, mirin, soy sauce, mushrooms, kombu, sriracha sauce, fish sauce, honey, and ginger. Bring to boil. Cover; reduce to simmer and cook 10-15 minutes or until mushrooms are tender.
Using a slotted spoon, remove kombu and ginger slices and discard. Remove mushrooms, slice thinly and return to pot.
Add noodles to broth. Arrange protein, bok choy, bell pepper, and peas on top of noodles. Cover and cook until protein is cooked through.
Salt to taste. Garnish with green onions, cilantro, and more sriracha if desired.
Notes
Choose one or a combination of any of these proteins: Tofu cut into 1-inch cubes. Chicken breast thinly sliced. Raw shrimp, peeled and deveined .
https://www.floandgrace.com/201336one-pot-asian-noodles-html/
© 2016 - 2022 Flo and Grace.