These meatless power wrap snacks are a popular vegan snack food—like a vegan slim jims. These Veggie Jim recipe is packed with flavor and nutrients.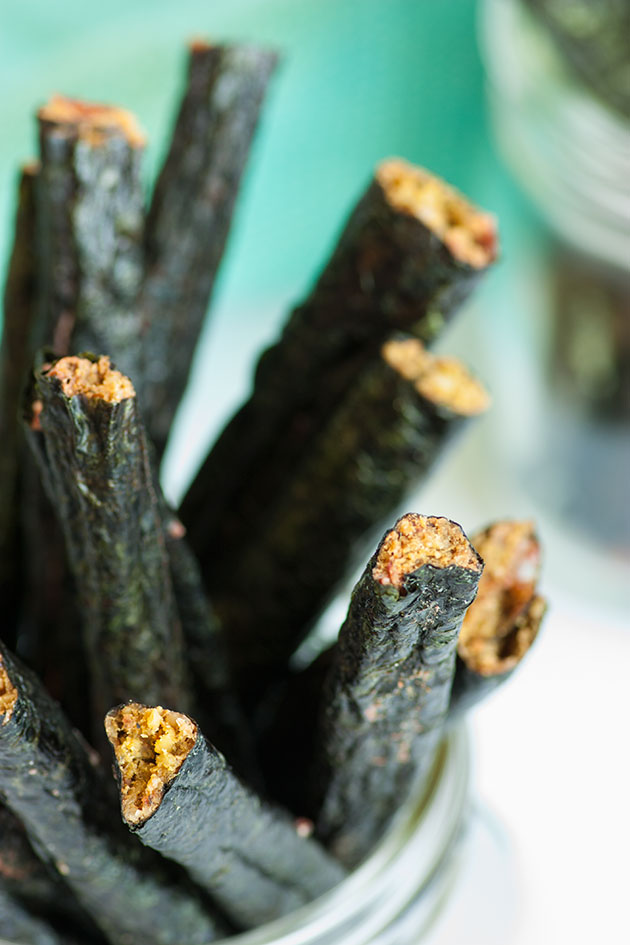 Hi! This is Jill, Lex's sister from Hawaii. I've been visiting Lex for the last week, helping out with the boys, and of course eating some fabulous food.
One of our experiments this week was a dehydrated snack we're calling Veggie Jims. These nori power wraps are available at many natural food stores and sell for $1-2 each—we thought we could make them for a lot less! They are simply a tasty seed paste wrapped up in a nori sheet for easy transport on the go. Shaped like Slim Jims, these meatless power wrap snacks are quite popular among our vegan friends. We are calling ours Veggie Jims—and are they ever packed with flavor! Our paleo friends love them, too.
Flavorings for these are endless, we went for a classic vegan slim jim demonstrated by Matt and Angela. The cayenne gives these in awesome kick!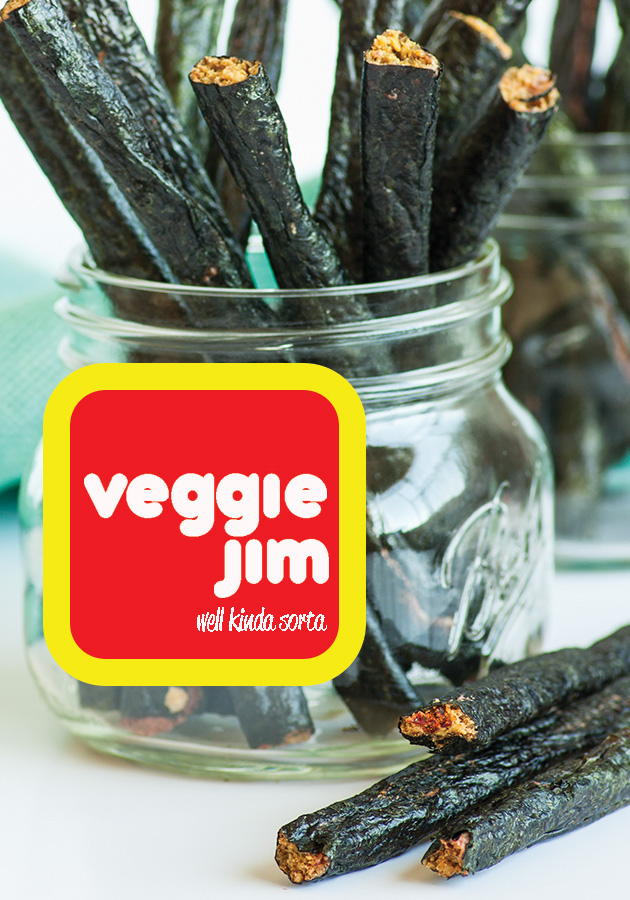 Veggie Jim Recipe (Meatless Slim Jims)
Ingredients
About 12 NORI SHEETS, cut into thirds lengthwise
12 ounces raw SUNFLOWER SEEDS
8 ounces raw PUMPKIN SEEDS
1 cup WATER (more as needed)
2 red BELL PEPPERS
1 tablespoon raw grated BEET*
4 minced GARLIC CLOVES
6 tablespoons fresh LEMON JUICE
1 teaspoon SALT
2 teaspoons ONION POWDER
1/4-1/2 teaspoon CAYENNE PEPPER (or to taste)
Instructions
Whirl seeds in a high-powered blender or food processor to a fine meal. Remove and set aside. 
Add remaining ingredients (except for nori sheets) and blend/process until smooth. 
Add the seed mixture back in and blend/process to a smooth, spreadable, paste-like consistency (add a tablespoon of water at a time as needed to aid in blending/processing).
Avoid over salting so they don't end up too salty after being dehydrated. 
Transfer to a large zip top bag, squish paste down into one corner, and snip off the corner to pipe out a 1/4 to 1/2-inch thickness. 
Lay a strip of nori (shiny side down) onto a sheet of parchment. This was the only tricky, slightly time consuming part. Lightly spritz (we used a spray bottle) the nori sheet with water. Then pipe the filling down the center of the nori sheet. Take your time and try to ensure an even filling. 
Roll nori around filling and seal edges with another spritz of water if needed. 
Arrange Veggie Jims on dehydrator trays and dehydrate over night or until firm and dried out—about like a Slim Jim meat stick. They are super yummy warm out of the dehydrator! 
Store in an airtight container.
Notes
Be warned, the paste looks pretty gross (that's the pink from the beet). We promise, no pink slime or spam was involved in the making of these vegan snacks. Oh and we got over-ambitious in the "piping it on" shot below. Just aim for 1/4-1/2 inch strip of paste.
https://www.floandgrace.com/2013514veggie-jim-recipe-html/
© 2016 - 2022 Flo and Grace.