Shrimp Curry Rice Salad makes an easy potluck side dish. This winner was a recipe given to my grandmother by grandpa's Commanding Officer at Barber's Point way back in the day.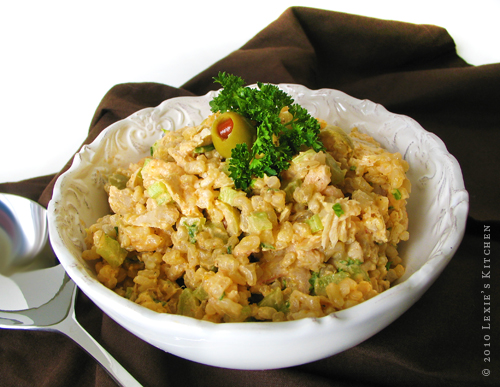 One of the most talented home cooks in our family was Flo. As the wife of a naval officer, she travelled the world, enjoyed the flavors of many lands and developed her skills in the kitchen. This recipe for Shrimp Curry Rice Salad was given to her by the wife of my grandfather's Commanding Officer at Barber's Point. A tasty side dish for your next potluck.
Shrimp and Curry Rice Salad
Ingredients
1/2 cup vegan MAYONNAISE
3 tablespoons LEMON JUICE
3 tablespoons FRENCH DRESSING
2 teaspoon CURRY POWDER
3 cups chilled cooked RICE (brown or white)
1/2 pound SALAD SHRIMP
1 can TUNA
1/2 cup diced CELERY
1/4 cup chopped PARSLEY
1/4 cup stuffed GREEN OLIVES, sliced
Instructions
In a small bowl, whisk together mayonnaise, lemon juice, French dressing and curry powder. Set aside.
In a large bowl, gently toss rice, shrimp, tuna celery, parsley and green olives.
Stir dressing into rice mixture just before serving.
https://www.floandgrace.com/201358shrimp-and-curry-rice-salad-html/
© 2016 Flo and Grace.