If you like Rise® Breakfast Bars, I think you'll love these Pumpkin Seed Power Bars. Plus a $3.00 gadget that gives you perfectly square power bars.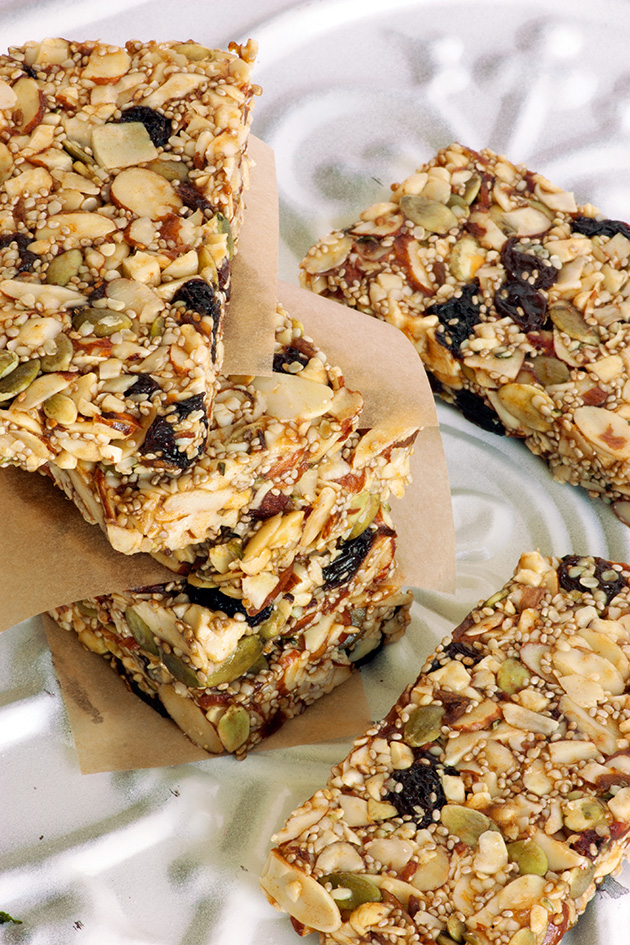 Pumpkin Seed Power Bars
If you live with a food intolerance or food allergy, it's always a happy day when you spy a new goody at the grocery store that's safe for consumption!  That was the case with these breakfast bars. We've been buying them by the carton and eating our way through them pretty fast so I thought it was time to see if I could make them at home and trim a few dollars off of our grocery bill.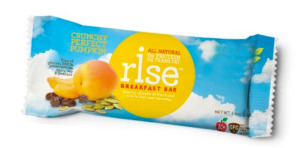 Compared to the Crunchy Perfect Pumpkin Breakfast Bar from Rise®, these Pumpkin Seed Power Bars are:
Is a little less sweet.
Replaces the amaranth with chia seed so that I could reduce the sweetener required to make the ingredients stick together (a job that sugar does so well).
Does include nuts, but you can easily make it a nut-free bar by using more pumpkin seeds in place of the nuts (I was running low on pumpkin seeds so had to throw in the nuts).
I've only made these in the dehydrator. Some of you have tried them in the oven at a low temperature for a couple of hours and they did not hold together. So dehydrator is the way to go.
Oh and the trick to the perfectly rectangular bars? An inexpensive musubi sushi rice press. Find one at your Asian grocery store or here on Amazon for under $3.00.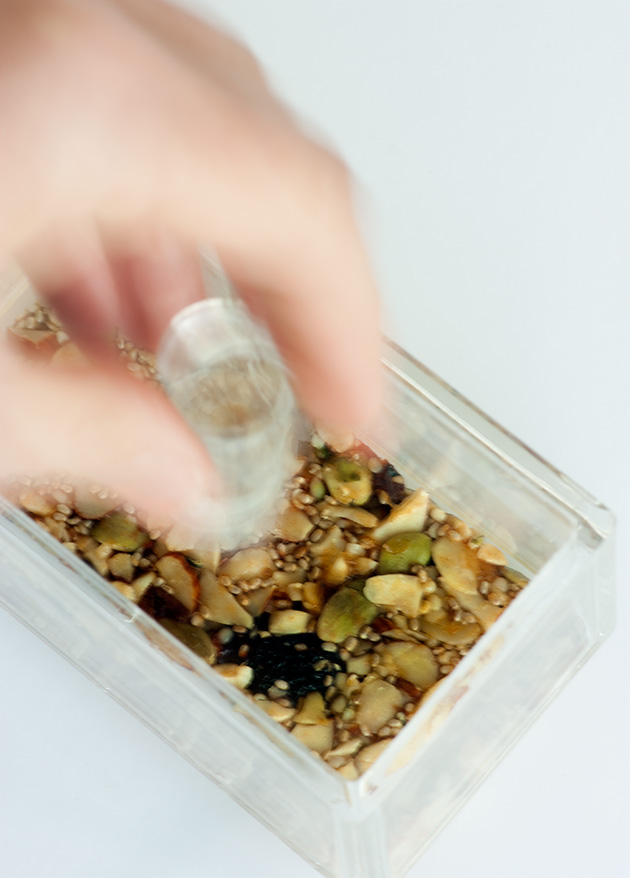 Ingredients
1 cup water
1/4 cup no sugar added apricot preserves or this compote
2 tablespoons honey (pure maple syrup for vegan)
1/4 teaspoon salt
1/4 cup chia seed
1/4 cup unsweetened dried cherries or cranberries
1/4 cup raisins
1/3 cup pitted and chopped dates
1-1/2 cups raw pumpkin seeds
1 cup sliced almonds
1/2 cup raw cashews, finely chopped
1/4 cup hulled hemp seeds
Instructions
In a small saucepan combine water, preserves, honey, and salt. Bring to boil; reduce to gentle simmer and cook until reduced to about 3/4 cup.
Remove from heat and stir in chia seed, cherries, raisins, and dates. Set aside 5-10 minutes to thicken.
In a large bowl combine the pumpkin seeds, almonds, cashews, and hemp seeds.
Stir in apricot mixture.
For uniform bars use a musubi rice press; lay a piece of parchment paper on work surface, place mold on parchment and spoon in 1/4 cup (or so) of the seed mixture. Oil press surface and use it to firmly pack seed mixture. Release from mold and place onto dehydrator tray. Repeat.
Dehydrate bars for about 24 hours or until bars are firm and hold together.
Store in airtight container at room temperature for a week or freeze.
Notes
The next time I make these I plan to lightly toast the nuts and seeds in a 325F oven for 10-12 minutes prior to mixing to give the bars a little added crunch. If I hadn't had a musubi rice press, I would have used a medium sized round cookie cutter and some random flat kitchen object to pack the seed mixture in to make round bars versus rectangular. 🙂
https://www.floandgrace.com/201363pumpkin-seed-power-bars-html/
© 2016 Flo and Grace.