This Pink & Green Shrimp Fried Rice is representative of flavors you'd find at the Hawaiian sugar plantation potlucks of my youth. Yum!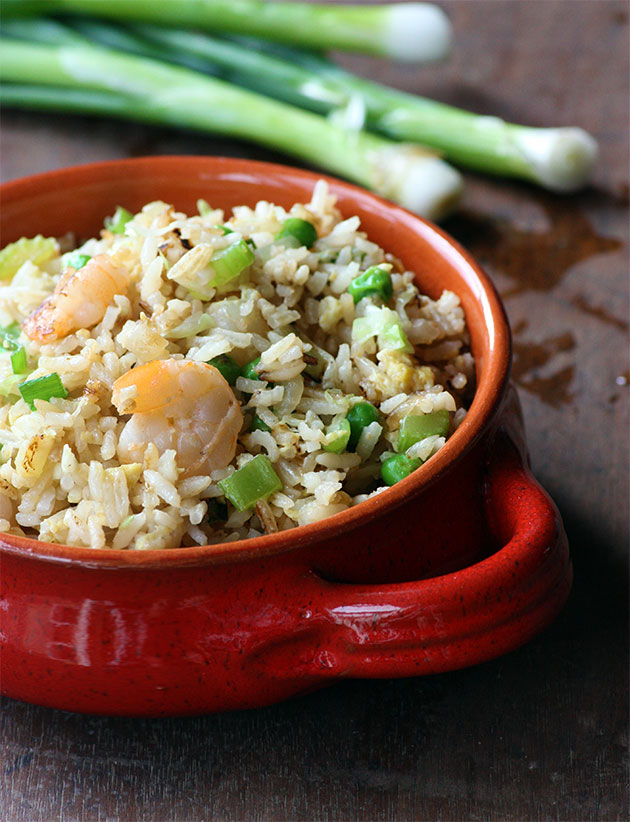 Nothing made my mouth water quite as much as an invitation to a plantation potluck. There were some fine home cooks on the sugar plantation I grew up on on the Big Island of Hawaii. There would certainly be Japanese mochi, Hawaiian kalua pig, Chinese chicken hekka and, of course, fried rice … all made by women who knew what they were doing, had been doing it for decades, all following recipes that had been brought to the islands by boat (or memory) and passed down from one generation to the next.
Last night I thought I would attempt to come up with my own variation of that beloved fried rice. I'm calling it Pink and Green Shrimp Fried Rice for the green hued vegetables and succulent pink shrimp I used.
I had three three bowls of it, an indication of how good I thought it was! It makes a great (and quick) weeknight meal or side dish.
Pink & Green Shrimp Fried Rice
Ingredients
1 tablespoon MIRIN
1 tablespoon THAI FISH SAUCE (I use this one)
1 tablespoon gluten-free SOY SAUCE
1 tablespoon gluten-free OYSTER SAUCE (I use this one, see Notes)
1/8 teaspoon ground WHITE PEPPER
1/2 cup each diced/thinly sliced CELERY, ONION, GREEN ONION, GREEN CABBAGE
1/2 cup FROZEN PEAS
1-2 cups frozen cooked SHRIMP, thawed
4 cups cooked and cooled RICE
3 EGGS, beaten (optional)
OIL for frying
Instructions
In a small bowl whisk mirin, fish sauce, soy sauce, oyster sauce, and white pepper. Set aside.
In a wok over medium-high heat 1 tablespoon frying oil. Saute celery and onion until soft.
Add shrimp and cook 1 minute.
Add green onion, cabbage, peas and cook 1 minute.
Add rice. Drizzle with 1-2 tablespoons frying oil and stir fry 2-3 minutes.
Make a well in the middle of the rice mixture and add beaten eggs. Scramble eggs until almost cooked then toss with rice.
Drizzle sauce over rice, toss, serve.
Notes
About oyster sauce.Watch for monosodium glutamate—not a good additive! Some brands appear to be a safe gluten-free bet according to a thread on celiac.com, but please research this for yourself. Lee Kum Kee green label brand is a good place to start. This is the one I use.
https://www.floandgrace.com/201383pink-green-shrimp-fried-rice-html/
© 2016 - 2022 Flo and Grace.