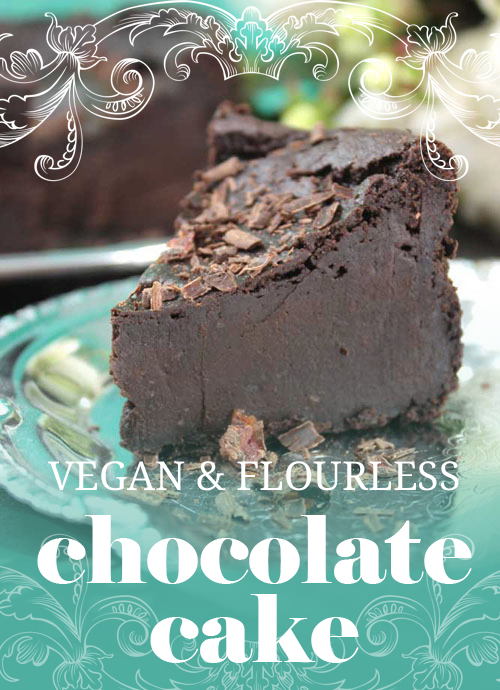 Hello dear readers! Here's one for you from the archives.
Have you tried it?
It's just been too popular not to share again.
Here's what a few have wrote in saying about it:
"This cake is AH-Mazing! Thank you so much for sharing!" — Jennifer
"I'm making this for a second time this week!! I've been gluten free for over a year now, and I've recently eliminated eggs. This recipe is fantastic! It's rich and dense and chocolately! Instead of cashews, I used a little less than 1/3 cup almond butter. It worked out great."  — Melanie
"Absolutely amazing! This was such a find and a friend made it for a dinner party (because I asked her too!) I took half the cake home and have had little slivers with my coffee each morning. Because its healthy, right?? 🙂 delicious! Will be making again!"  —Lisa
Enjoy!
Gluten-Free Egg-Free Flourless Chocolate Decadence Cake
Ingredients
2 tablespoons virgin COCONUT OIL
1/2 cup Enjoy Life® CHOCOLATE CHIPS
1/2 cup plain, unsalted cooked BLACK BEANS, rinsed and drained
1/2 cup raw CASHEWS, soaked 4-6 hours, rinsed and drained (see Notes for substitution)
1/2 cup WATER
3 tablespoons runny HONEY or AGAVE (if vegan)
3 tablespoons Dutch-Process COCOA POWDER (read how Dutch is different)
2 tablespoons COCONUT FLOUR
3/4 teaspoon BAKING POWDER
Instructions
Directions:
Preheat oven to 325?F.
Oil bottom and sides of one 5-6" round springform cake pan. Dust with 1 tablespoon of the cocoa powder.
Combine and gently heat coconut oil and chocolate chips just to soften.
Transfer chocolate chip mixture (it should not be hot) to a high-powered blender. Add remaining ingredients, except for baking powder, to blender. Blend on medium-high until super smooth. Add baking powder and blend on low 5-10 seconds or until just incorporated.
Immediately pour mixture into pan. Bake 35-40 minutes.
Remove cake from oven and transfer to refrigerator to chill 4-6 hours. Run knife around edge of cake before removing from pan. Serve cold. Garnish with chocolate shavings if desired.
Notes
1. Enjoy Life® Chocolate Chips are gluten-free, soy-free, dairy-free. Use any brand of chocolate chips that are safe for you.
2. This cake is best kept refrigerated and served chilled.
3. No time to soak the cashews? Soften in very hot water for 10 minutes.
4. Expect the "cake" to rise during baking and fall during cooling. This is to be expected.
5. If your blender is not "high-powered" and you are determined to make this cake. Try pureeing the beans, cashews and the liquid first, then proceeding with the other ingredients.
6. I have had many inquiries about substitute for cashews. The last time I made this cake I replaced the cashews with 1/3 cup peanut butter and it was quite delicious—definitely had a hint of peanut butter. The outer part of the cake seemed a bit more crumbly, but it did not detract from the flavor. You could very well use sunflower butter, too.
https://www.floandgrace.com/2014422gluten-free-egg-free-flourless-chocolate-cake-html/
© 2016 - 2022 Flo and Grace.