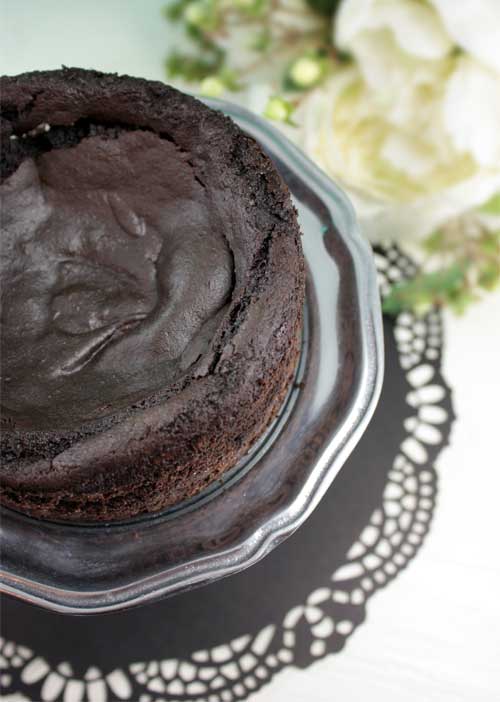 Flourless Chocolate Cake, Chocolate Torte, Chocolate Decadence—what's the diff? Well, not much. Traditionally these dense, fudgy "cakes" call for hefty measures of cocoa, eggs, refined sugar, butter and/or cream. It's no wonder this indulgent dessert also goes by the name of Death by Chocolate.
It was one of those "I gotta have chocolate!" days that inspired this lighter version of Chocolate Decadence. Throwing all caution to the wind (or into the blender), I began mixing chocolate chips, black beans, cashews and a bit of coconut flour. The result was delightful. The little "cake" rose to perfection and then fell (as these desserts do) as it cooled. It's a treat with a slightly crisp top and sides and a super dense, rich and fudge-like interior. Mmmm. So easy and a definite keeper.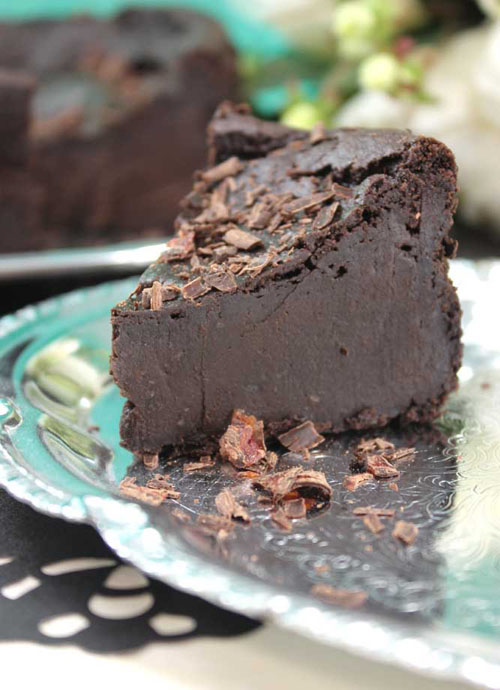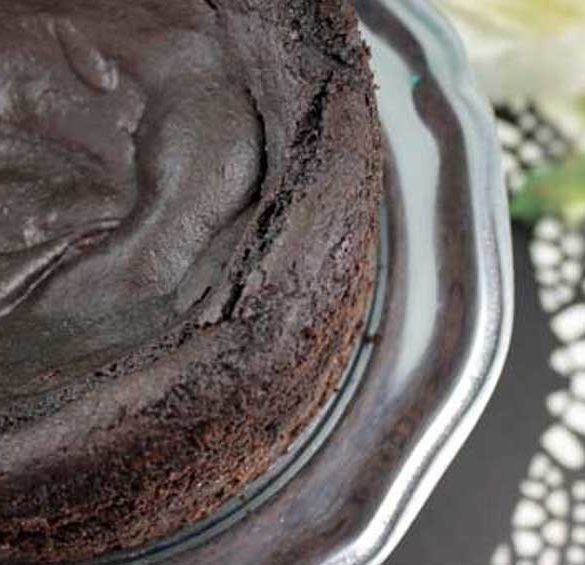 Ingredients
2 tablespoons virgin COCONUT OIL
1/2 cup Enjoy Life® CHOCOLATE CHIPS
1/2 cup plain, unsalted cooked BLACK BEANS, rinsed and drained
1/2 cup raw CASHEWS, soaked 4-6 hours, rinsed and drained
1/2 cup WATER
3 tablespoons runny HONEY or AGAVE
3 tablespoons dark COCOA POWDER
2 tablespoons COCONUT FLOUR
3/4 teaspoon BAKING POWDER
Instructions
Preheat oven to 325F.
Oil bottom and sides of one 5-6" round springform cake pan. Dust with 1 tablespoon of the cocoa powder.
Combine and gently heat coconut oil and chocolate chips just to soften.
Transfer chocolate chip mixture (it should not be hot) to a high-powered blender. Add remaining ingredients, except for baking powder, to blender. Blend on medium-high until super smooth. Add baking powder and blend on low 5-10 seconds or until just incorporated.
Immediately pour mixture into pan. Bake 35-40 minutes.
Remove cake from oven and transfer to refrigerator to chill 4-6 hours. Run knife around edge of cake before removing from pan. Serve cold. Garnish with chocolate shavings if desired.
Notes
Enjoy Life® Chocolate Chips are gluten-free, soy-free, dairy-free. This cake is best kept refrigerated and served chilled. No time to soak the cashews? Soften in very hot water for 10 minutes.