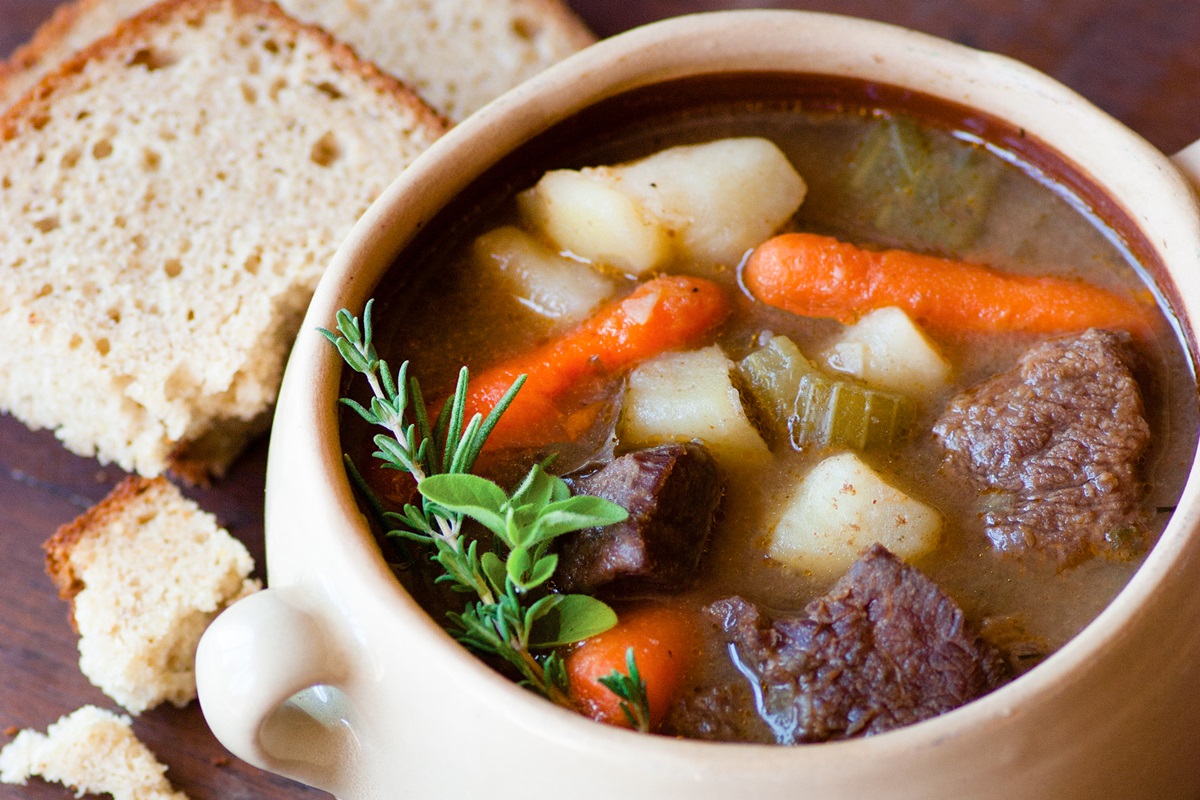 If you're in the mood for something warm and comforting, you've come to the right place. Once you have a batch of my Gluten Free Stew Seasoning ready to go, making this gluten-free dairy-free slow cooker beef stew is incredibly easy. It's nourishing, satisfying, and can be adapted for any season. I've recently updated this post to include more recipe tips and options, so you can customize the recipe to suit your taste and budget.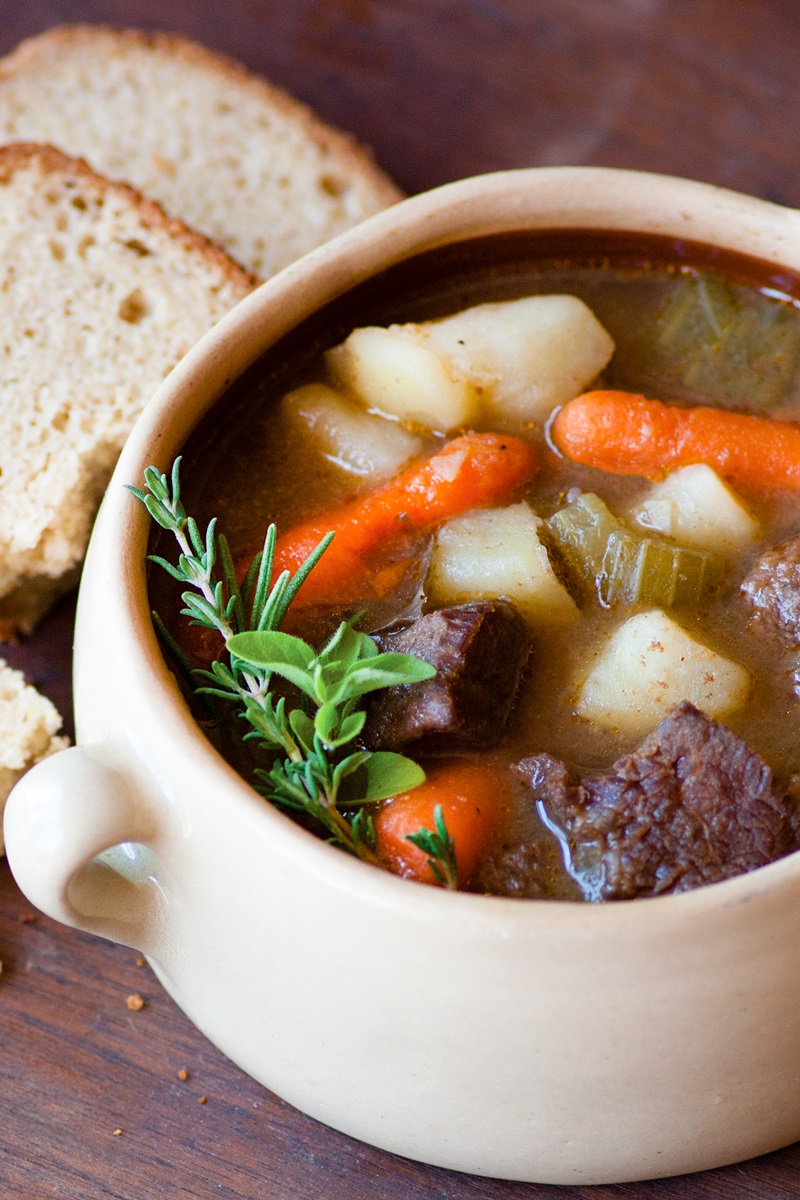 Recipe Tips: Gluten-Free Dairy-Free Slow Cooker Beef Stew
If you have a multicooker, like an InstantPot, you can brown the meat right in the cooker, before adding the other ingredients to slow cook. That's one less pan to wash!
My stew seasoning contains garlic and onion, but you can add some fresh onion and garlic for lovers of these pungent plants.
We like to serve this gluten-free dairy-free slow cooker beef stew with rice or crusty gluten-free bread, like BFree.
If you don't have a slow cooker or need dinner ready sooner, you can cover and simmer the stew for about 90 minutes on the stove top.
Ingredient Notes & Substitutions
Beef: Stew is a great way to use those tough cuts of meat that are often less expensive. I like bottom round steak and chuck meat, but top round steak is also a good choice.
Vegetables: Don't hesitate to experiment with other vegetables in this easy stew. You can try kohlrabi, turnip, green beans, summer squash, sweet potatoes, or parsnips.
Broth or Soup: You can use your favorite pre-made broth or stock. If buying something new, make sure it is gluten-free, dairy-free, and suits your other dietary needs. Many brands contain top allergens or other additives. I like to use a clean beef broth or bone broth, and preferably one that is lower sodium. It's easy to add more salt at the end, if needed. Pacific Foods Bone Broth is a convenient organic option if you don't have time to make your own.
Salt: The sodium level in this gluten-free dairy-free slow cooker beef stew will vary based on the broth or soup that you choose. As mentioned, I like to start with a lower sodium base, and then season to taste, if needed.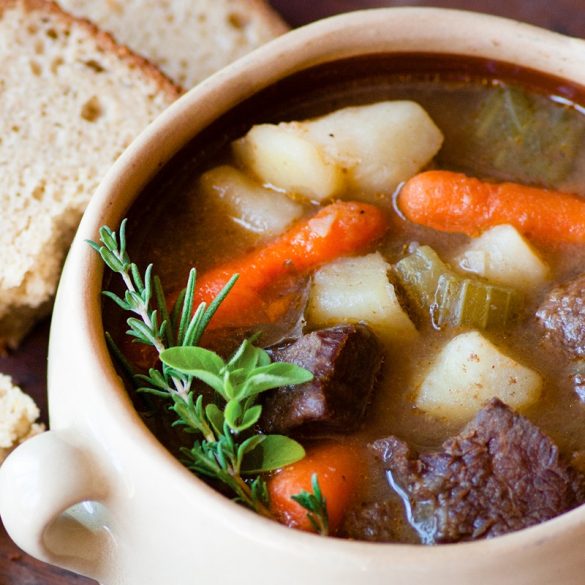 Ingredients
2 pounds beef or bison stew meat, cut into 1½-inch cubes
6 tablespoons gluten-free stew seasoning
2-4 tablespoons cooking oil
6 cups cubed potatoes, 1-inch thick
2 cups sliced carrots, ½-inch thick (can sub baby carrots)
2 cups sliced celery stalks, ¼-inch thick
2 (32-ounce) cartons gluten-free soup or broth (see post above for options)
Sea salt, to taste
Black pepper, to taste
Instructions
Toss meat with stew seasoning and brown in oil.
Add to slow cooker; browned meat, potatoes, carrots, celery and soup.
Cook on high 4-6 hours or on low 6-8 hours or until meat is tender.
Taste and add salt and pepper, as desired. Looking for a little zing? Add some dashes of hot sauce.
Notes
Nutrition Facts: (serving size = about 2 1/2 cups) Calories 376, Total Fat 13.8g, Saturated Fat 3.7g, Sodium 763mg, Total Carbohydrate 19.5g, Dietary Fiber 2.8g, Total Sugars 2.9g, Protein 41.1g
Dietary Notes: Gluten-Free | Casein-Free | Citrus-Free | Corn-Free | Dairy-Free | Egg-Free | Fish-Free | Peanut-Free | Shellfish-Free | Soy-Free | Tree Nut-Free | Wheat-Free | Sesame-Free | Sweetener-Free | Yeast-free | GFCF