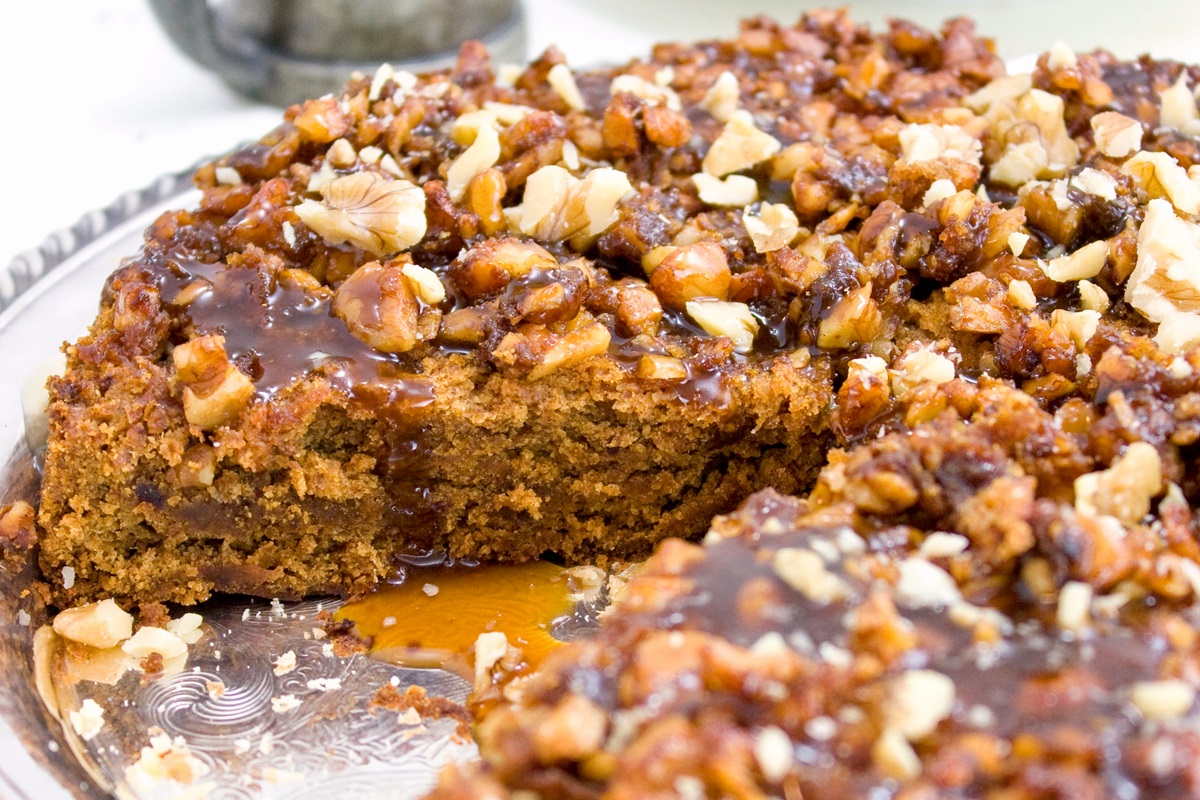 When mom and I get on the phone, inevitably the conversation turns to what Dr. Oz talked about on his latest show or what Martha has been whipping up in the kitchen. I don't have a television, so thankfully she keeps me in the loop! The other week she gave me the mouth-watering play-by-play of Martha and Nora Singley making Upside-Down Sticky Toffee Pudding. I had never had sticky pudding—much less heard of it. My interest was peaked. I had to investigate.
Scanning the recipe over, I had a good feeling that it could be modified to be free of egg, gluten, dairy and refined sugar without a hitch. Three sticky pudding's later I think I have it. And, so without further ado, here is my holiday gift to you—Upside-Down Sticky Toffee Pudding.
If you make it, I'd love to know how it measures up to other sticky puddings you've had. The first rounds were just a bit too sticky for my taste. This one is a bit more sticky-bready. Thank you Nora and Martha for the inspiration. And thank you my beautiful readers, my heart swells with gratitude for you … it's been a great year!
Recipe Tips: Gluten-Free Dairy-Free Upside-Down Sticky Toffee Pudding
This moist sponge cake is best served warm. But if you have any leftovers, store them covered in the refrigerator for up to 3 days.
Ingredient Notes & Substitutions
Chia Seeds: I use white chia seeds because their lighter color blends into most recipes, but this is a darker recipe, so it's fine to use black chia seeds. You can grind them in your spice grinder or blender to make chia seed meal. If you only have flaxseed, you can make "flax eggs" instead. I haven't tested it, but if you tolerate eggs, you should be able to use 2 eggs in place of the chia seed meal and water.
Sugar: Coconut sugar tends to be coarse, so I usually powder it to ensure it dissolves properly into the cake. Like the chia seeds, you can simple grind the coconut sugar in your spice grinder or blender for about 10 to 20 seconds. If using brown sugar, you don't need to grind it. It dissolves just fine!
Flour: The ingredient that really makes these cookies is the superfine brown rice flour. This is "the Cadillac" of rice flours. But this recipe will work just fine if you don't have superfine, or if you opt to substitute an all-purpose gluten-free flour blend.
Butter Alternative: Most brands will work just fine, but I use a salted version. As noted, add a little salt if using an unsalted buttery spread or sticks.
Ingredients
Toffee Sauce
1/2 cup dairy-free buttery spread (I use Earth Balance soy-free)
1/2 cup coconut sugar, powdered (see post above)
1/4 cup pure maple syrup
2 teaspoons pure gluten-free vanilla extract
1 small (5.46 fluid ounces) can coconut milk (about 2/3 cup)
Sticky Toffee Pudding
6 tablespoons water
2 tablespoons ground chia seeds (chia meal)
4 ounces pitted medjool dates (approximately 4-5 large)
3/4 cup superfine brown or white rice flour
1/4 cup potato starch (not flour)
1/4 cup tapioca starch
1-1/2 teaspoon baking powder
1/2 teaspoon baking soda
1/4 teaspoon ground nutmeg
1/8 teaspoon ground cardamom (optional)
Pinch of ground cloves
1/4 cup dairy-free buttery spread (I use Earth Balance soy-free)
1/2 cup coconut sugar, powdered (see post above)
1/4 cup pure maple syrup
1 tablespoon pure gluten-free vanilla extract
1 cup chopped walnuts, pecans or macadamia nuts (optional), reserve 1/4 cup for garnish
Instructions
For the toffee sauce:
Melt buttery spread in medium saucepan over medium heat. Stir in sugar and maple syrup.
Bring to boil and immediately reduce to simmer. Cook for 5 minutes or until sauce has thickened.
Add vanilla and coconut milk. Simmer, stirring occasionally, until a thick sauce forms, about 5 minutes. Keep warm until ready to use.
For the pudding:
Preheat oven to 350˚F. Oil one 8-inch cake pan.
To make the chia eggs, whisk water and ground chia seeds together in a small bowl. Let sit.
Simmer dates with 1/2 cup water in small saucepan until dates have softened and most of the liquid has evaporated.
Transfer dates to food processor and pulse until coarsely chopped.
In a medium bowl, combine flour, starches, baking powder, baking soda, nutmeg, cardamom, and cloves.
In a large bowl, beat butter alternative, powdered coconut sugar, and chia eggs on high for one minute. Add maple syrup, vanilla, and date mixture; beat to combine. Add the flour mixture and mix until just combined. Batter will be thick and sticky.
Pour 1/2 cup toffee sauce into bottom of prepared cake pan; sprinkle with nuts. Dollop batter over toffee and nuts and smooth top with wet fingers or spatula.
Transfer to oven and bake until deep golden and a bamboo skewer inserted into the center comes out clean, about 50 minutes.
To assemble:
Remove pudding from oven and allow to cool 10 minutes.
Run a small knife around edge of pan and invert pudding onto serving plate.
Top with 1/2 cup of additional toffee sauce; allow to cool slightly. Some of the nuts and toffee may stick to the bottom of the pan when inverted. This extra drizzle of toffee sauce and sprinkling of reserved 1/4 cup nuts will cover any boo boos.
Serve warm with coconut cream whipped topping and drizzle of remaining toffee sauce.
Notes
Sugar Alternative: This recipe should work fine with brown sugar in place of coconut sugar.
Flour Replacement: Any xanthan-free gluten-free all-purpose flour blend should work as well. Replace the rice flour, potato starch, and tapioca flour with 1-1/4 cups of your favorite all-purpose GF flour blend.
Salt: If using unsalted butter alternative, you may want to add a pinch of salt to both the cake batter and the toffee sauce.
Nutrition Facts: Calories 367, Total Fat 15.3g, Saturated Fat 4.8g, Sodium 148mg, Total Carbohydrate 55.4g, Dietary Fiber 6.9g, Total Sugars 28.1g, Protein 4.2g
Dietary Notes: Gluten-Free | Casein-Free | Citrus-Free | Dairy-Free | Egg-Free | Fish-Free | Nightshade-Free | Peanut-Free | Shellfish-Free | Soy-Free | Easily Tree Nut-Free | Wheat-Free |  Sesame-Free |  Yeast-free | GFCF | Vegetarian | Vegan