Healing in a Glass
Over the last few years there has been a tremendous surge in research identifying the specific nutrients that have the ability to change the course of cancer.
And it is beyond exciting!
With a clearer understanding of epigenetics and the role that food nutrients, toxins, and microflora play in disease prevention and development, we have some of the long sought answers to our questions about what triggers, promotes, heals and prevents cancer.
In her book Healing Smoothies: 100 Research-Based, Delicious Recipes that Provide Nutrition Support for Cancer Prevention and Recovery, clinical nutritionist and educator Daniella Chace shares medicinally-potent smoothie recipes that taste great and provide cancer protective and healing nutrients.
Last summer the boys and I blended our way through Healing Smoothies and our takeaway was that this book is for everyone.
I was introduced to flavor combinations that I had never considered and smoothie ingredients I had never dabbled with.
I'll admit I was a little surprised by the sometimes heavier use of fruit and fruit juices in the recipes, but Daniella clearly explains the often overlooked nutritional benefits of each.
What I really got excited about were the not-so-common smoothie ingredients Daniella suggested we be adding to our smoothies. Here are just a few!
3 Ingredients to Try in Your Next Smoothie
Tea Cubes
Many teas including black, green, white and spearmint have been found to reduce the risk for the development and recurrence of many types of cancer. In Healing Smoothies, Daniella Chace shares the nifty tip of brewing green tea and freezing it in ice cube trays. She uses these green tea cubes in her smoothies in place of ice. So smart!
Banana Peels
Who'd thunk? Banana peels are edible! You've probably noticed how the flesh of a banana lends a creamy texture to your smoothies. What the peel can add are more anticancer compounds, one that is specifically useful in the treatment of benign prostate hyperplasia—what men may experience before full-blown prostate cancer. So give that banana peel a whirl—always organic of course.
Rosemary
Hmmmm. Rosemary in a smoothie?! Fresh, dried and ground can all be used in smoothies. Fresh rosemary in particular contains concentrated amounts of phenolic compounds that reduce inflammation and inhibit cancer cell growth. The rosmarinic and carsonic acid in rosemary have been shown to prevent radiation-induced DNA damage. A tablespoon of fresh rosemary in a berry-filled smoothie is a new adventure for the tastebuds.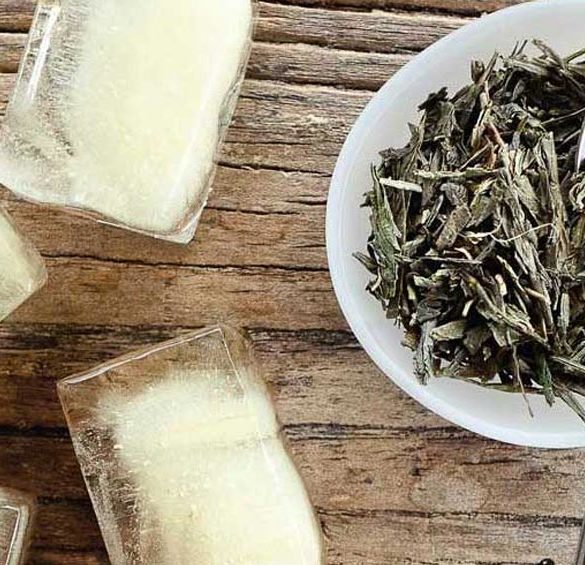 Ingredients
Organic loose-leaf green tea
Water
Instructions
Brew tea following the package instructions, steeping the tea for just under two minutes. By removing the leaves from the brewed tea at this point, you retain the maximum amount of protective catechins without extracting undesirable bitter tannins and excess caffeine.
Let cool.
Pour into ice cube trays and freeze.
Cubes can be popped out of their trays and tossed into airtight storage and placed in the freezer for quick use in smoothies in place of ice.
Notes
A Tip from Daniella Chace, Author of Healing Smoothies | Skyhorse Publishing. Reprinted with permission from Skyhorse Publishing.
---
 Live with Flow and Grace.™