Have you struggled with perimenopausal anxiety, fatigue, insomnia or weight gain caused by hormonal imbalance? Dr. Sara Gottfried's Hormone Reset Diet could be the help you are looking for.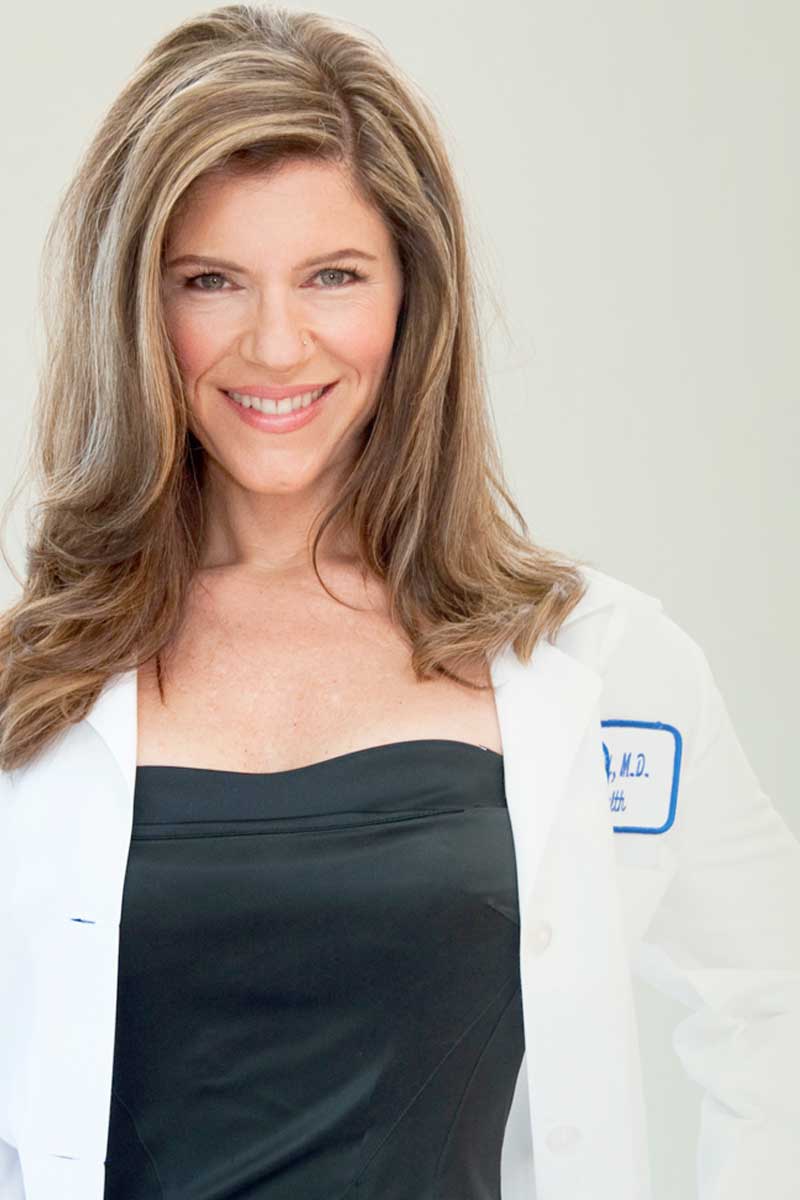 Perimenopause Does Not Have to Be a Struggle
Have you struggled with anxiety, fatigue, depression, insomnia, weight gain? Have you sought help from your doctor only to be ushered out the door with a 1978 handout of the USDA food pyramid and a prescription for an antidepressant.
More and more of us middle-aged women (that's all women between 40 and 68) have about had it with Western medicine's approach to our unique health issues and concerns. Just ask the doctor I am introducing you to today. She has seen thousands of frustrated, disillusioned and suffering women walk through the door of her practice.
Dr. Sara Gottfried—On a Mission to Help Millions
Dr. Sara Gottfried is a Harvard-educated physician, board certified gynecologist and mother who had her own struggle with weight gain, fatigue and other hallmark symptoms or perimenopause.
I got to know Dr. Sara a year ago when my testosterone tanked during my 45th year. Confiding in my friend Christy, I expressed how desperately I needed "me" back. Heart palpitations were cranking up my already anxious state, I wanted to be able to recover from workouts, I wanted more energy. I told her that I was considering bio-identical hormones as a first resort to finding my normal again. But wise as she is, Christy suggested I first attempt balancing my hormones with diet and stress reduction and referred me to Dr. Sara's website.
A Functional Approach to Perimenopause
I read up on Dr. Sara and found that she knows her stuff when it comes to traditional medicine. But what impressed me more was how she had shifted her practice and mode of healing to a functional medicine approach. She is a medical doctor who encourages you to eat your leafy greens rather than pop synthetic pills. She believes in Ayurveda, integrative medicine and yoga to cultivate vitality. She wants you to feel sexy, vital and balanced from cell to soul. If this is the kind of doctoring you seek, then you need to meet Dr. Sara Gottfried, too!
Business savvy is another thing Dr. Sara excels at. Seeing so many women in desperate need of help, she shifted her practice from helping a few at a brick and mortar office to helping millions by publishing books, speaking and developing a comprehensive Hormone Reset Detox.
You are in charge of you health. Own it! – Sara Gottfried
The Hormone Reset Diet
When I discovered Dr. Sara, she had just released her book The Hormone Reset Diet: Heal Your Metabolism to Lose Up to 15 Pounds in 21 Days and was weeks away from launching her first live Hormone Reset Detox that is outlined in her book. So I hit Amazon and The Hormone Reset Diet: Heal Your Metabolism to Lose Up to 15 Pounds in 21 Days and signed up for the detox which offered an online forum, recipes, tools and all the support I needed and bought the supplements and shake mixes as well.
The Hormone Reset Detox was the result of Dr. Sara's own struggle weight and her decision to take on her own hormones—to get them reset. It took three weeks but she began to lose weight and realized she was on to something.  So she took the top seven hormones that are out of whack when you can't lose weight—estrogen, insulin, leptin, cortisol, thyroid, growth hormone and testosterone—and figured out a way to reset these seven hormones in 3-day bursts.
Hoping the investment in the program would pay off, I jumped in with both feet. I upped my fiber, ate a pound of vegetables a week, eliminated certain foods every third day and by the end of it lost a few pounds and was feeling great.
Six months I repeated the Hormone Reset Detox and dropped from 148 to 140 and lost that pudgy-around-the-waist feeling that most of us are familiar with. I was quite pleased and would recommend it.
Many of my friends have asked about it and here's what I have shared:
Dr. Sara Gottfried's Hormone Reset Detox work?
I think it does.
Do I Recommend One of the Live Detoxes?
Initially yes, I think it helps keep you motivated and provides many helpful resources. Now preparing to do my third detox, I plan to use  The Hormone Reset Diet: Heal Your Metabolism to Lose Up to 15 Pounds in 21 Days as my guide (here is the promo video for the book).
Do You Need to Order Dr. Sara's Shakes and Supplements?
I do, but Dr. Sara does suggest alternatives. Most days, one meal a day is replaced with a shakes (this makes my meal planning so much easier!). Dr. Sara's shake and supplement formulations were designed with women and hormones in mind—so I bite the bullet and buy them to get the most out of the detox.
Do You Follow the Detox too a T?
Yes and no. The beauty of this detox is you can go as deep as you want to go. In addition to guidance on what to eat, Dr. Sara suggests everything from a full hormone blood/saliva panel (and where to get these done) to body brushing to logging 10,000 steps a day and meditating to tongue scraping. Honestly, following her every suggestion was a bit overwhelming and I didn't want my detox be a stressful event, so I picked and chose the "extras" but adhered strictly to what I was to be eating and when.
Whether you choose to explore Dr. Sara Gottfried's Hormone Reset Detox or not, she is a wealth of knowledge and perimenopausal wisdom. I encourage you to take the time to watch some of YouTube videos. You may find help for the midlife issues that are ailing you. I know I did and I will forever be grateful.
Learn from Dr. Sara
Dr. Sara Gottfried's Free Training Videos on YouTube Channel
Dr. Sara Gottfried's Products and Courses here.
Dr. Sara Gottfried's Hormone Reset Circle