These savory snack bars satisfy the need for crunchy gluten-free whole grain goodness, deliver big on the savory, and boast just a hint heat.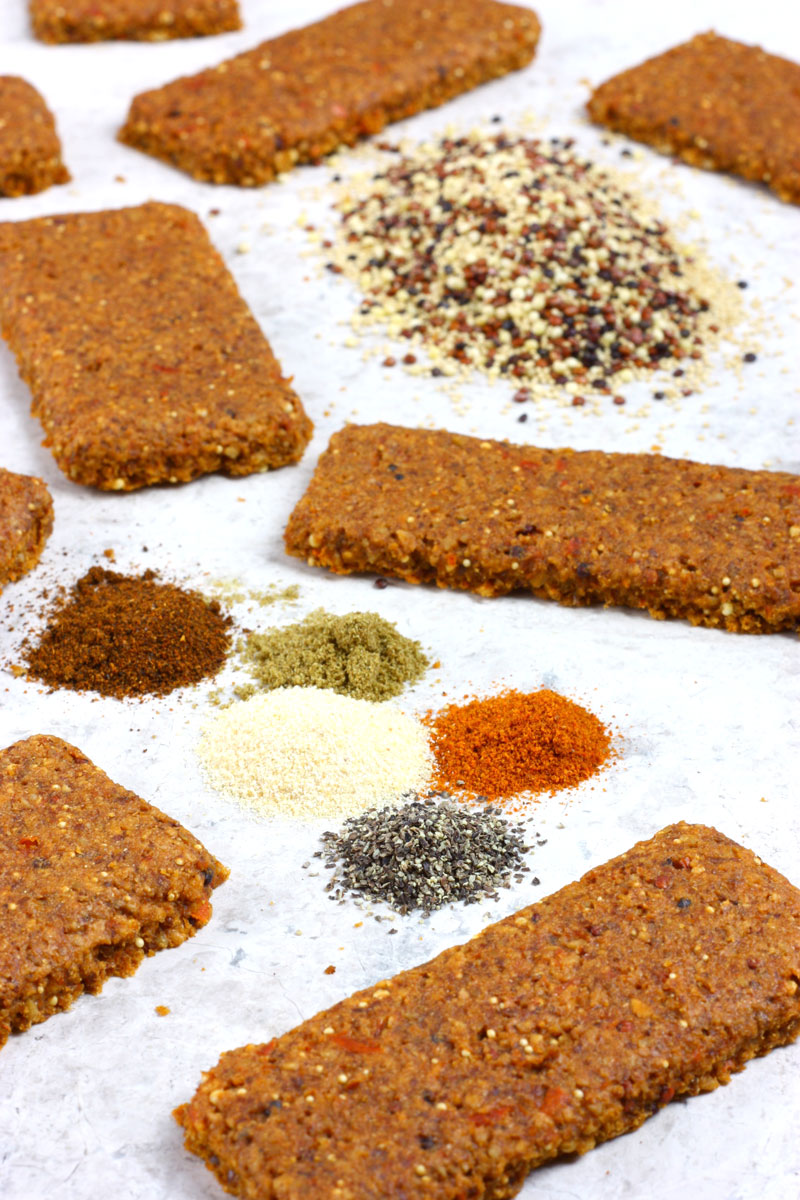 Move Over Granola Bars
Savory snack bars are trending big. Bar makers like Kashi, thinkThin and Mediterra are kicking the humble granola bar to the curb and serving our taste buds a savory snack experience that aims to be lower in sugar and way bigger on flavor.
This new breed of snack bar got me all excited and eager to come up with one that could hold its own in the savory snack bar arena.
Savory Snack Bars Are All The Rage
They say that imitation is the sincerest form of flattery and this week I have done my best to flatter Kashi—the makers of whole grain cereals and plant-based goodies. Inspired by Kashi's Quinoa Corn & Roasted Red Pepper Savory Bar, these Savory Red Pepper Bird Seed Bars satisfy the need for crunchy gluten-free whole grain goodness, deliver big on the savory and boast just a hint heat.
Seeds Aren't Just For The Birds
Bird Seed Bars? The humor in the name is no accident. The whole grains in these bars add definite crunch. I immediately thought what my grandfather would have called them. The answer came clear as a bell, as if he was standing right there in the kitchen with me.
He would have seen the whole grains in the bars and exclaimed, "what is this? Bird food?"
Ha!
Granddad was always spot on—and, you know, he secretly would have loved these savory snack bars with a tall glass of Arnold Palmer while watching the golf channel from the comfort of his recliner.
Anyway, these Savory Red Pepper Bird Seed Bars have come to my rescue in the afternoon when the urge hits to devour half a bag of tortilla chips. Instead I break out hummus, carrot sticks and Savory Red Pepper Bird Seed Bars. They also complement a green salad, soup and even scrambled eggs in the morning.

Smart Spice Shopping
Seven years ago when our boy was pretty sick, my husband and I made the decision to go organic as much as possible. Though it hasn't been easy financially, we simply have had to make eating clean a priority over family vacations and new cars.
We certainly avoid EWGs Dirty Dozen and are very selective with the meats we buy, but one switch I never thought to make was to all organic spices. It just never crossed my mind that the non-organic spices in my spice cabinet could be laced with pesticides and processed with chemicals. Waaahhhh!
When you think about it, many of the dry spices we use are concentrations of fresh herbs. A tablespoon of parsley dries down to about a teaspoon. So, not only are spices concentrations of the herb itself, but they can be concentrations of pesticides and chemicals as well.
Back in 2009, 184 samples of the herb cilantro were tested by the USDA. 94 percent tested positive for at least one pesticide. Even more alarming was the presence of 34 totally unapproved pesticides. Pretty scary in my book.
Perhaps our conventional cilantro farming friends have cleaned up their act, but I'm not going to bet on it. The notion of chemicals in my spices has persuaded me to make the switch to all organic spices as well.
One purveyor of spices I have started to use is Simply Organic. I like that they are committed to delivering organic, wholesome, great-tasting flavor, and equally as important, that they are fair and respectful in their sourcing practices.
The 2016 Simply Organic Bake-Off
This month Simply Organic and Go Dairy Free are hosting the Simply Organic Bake-Off. Ten food bloggers and authors have been busy baking cookies, breads and holiday treats just for you! From sweet to savory, you'll be delighted by these all-new recipes that are bursting with flavor and fit for the dairy-free and special diet crowd. Check out the event, vote for the tastiest looking recipes and enter to win prizes.
To enjoy even more recipes and tips from Simply Organic, follow the hastag #OrganicMoments on social media. Simply Organic also posts daily deliciousness on Instagram and Facebook. Not all of their recipes are dairy-free, but they definitely have some gems. As for the recipes in this dairy-free bake-off, Go Dairy Free will be sharing them as they pop up on Facebook, Instagram and Twitter with the hashtag #dfbakeoff.
And without further ado, here is my entry to the Simply Organic Bake-Off—Savory Red Pepper Bird Seed Bars!