I swear, the heavens parted the day I discovered I could create a can of coconut cream whipped topping. I wish you the same heavenly experience.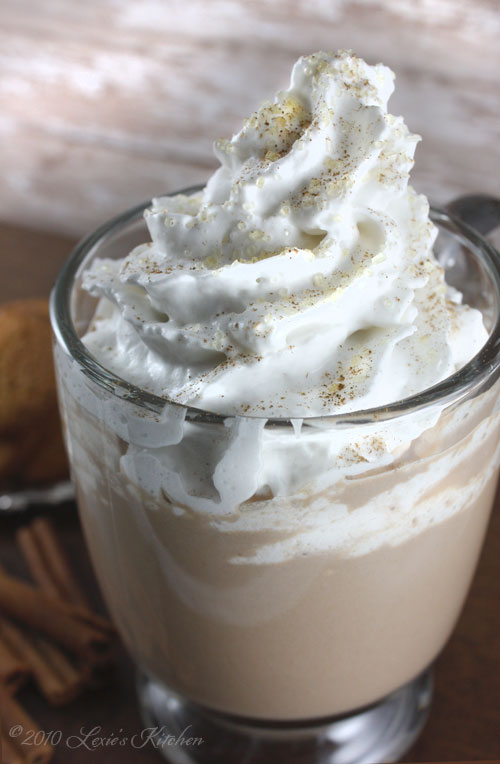 Coconut Cream Whipped Topping

Gluten-Free | Casein-Free | Citrus-Free | Corn-Free | Dairy-Free | Egg-Free | Fish-Free | Nightshade-Free | Peanut-Free | Potato-Free | Rice-Free | Shellfish-Free | Soy-Free | Tree Nut-Free | Wheat-Free | Grain-Free | Sesame-Free | GFCF

For a similar, but vegan version of this recipe click here.
Makes: Approximately 4 cups
Prep Time: 5 minutes
Chill Time: At least 4 hours
Ingredients:
2 14-ounce cans COCONUT MILK (full fat) Thai Kitchen® works well or any high-fat coconut milk
1/4 cup cold WATER
1/2 teaspoon unflavored GELATIN
1 teaspoon pure VANILLA EXTRACT
1 teaspoon pure ALMOND EXTRACT (tames the coconut flavor)
1/4 cup liquified HONEY or agave (use liquid stevia to taste to make it sugar free)
Directions:
Allow can of coconut milk to rest for at least 24 hours undisturbed to allow coconut "cream" to separate from the clear coconut liquid. Carefully transfer to refrigerator and chill 4-6 hours.
Place a one-pint iSi Creative Whip canister in freezer to chill.
Turn can upside down and open with a can opener. You should see a runny, opaque coconut milk on top. Pour this off. Scoop out the solidified "cream" at the bottom of the can and transfer to a bowl medium mixing bowl. Set aside.
Bloom gelatin by adding water to a small bowl and sprinkling gelatin over surface. Allow to sit one minute. Place in microwave and heat 20-30 seconds or until mixture comes to a boil (watch it carefully). Remove and stir until gelatin is completely dissolved. Chunks of gelatin will clog the Creative Whip. If you find some gelatin chunks that are not dissolving, just pour the liquified gelatin through a strainer.
Whisk gelatin, almond extract, vanilla extract and honey into the coconut cream. Add a tablespoon or two of water as needed to achieve a heavy, but pourable, cream consistency.
Pour cream mixture into Creative Whip canister (fill up to fill line, you will have a little leftover). Charge with one Cream (not Soda) charger. Shake vigorously 3-4 times. Remove charger. Place canister in refrigerator on its side and allow to chill for 4-8 hours or preferably overnight.
Once thoroughly chilled, the Coconut Cream Whipped Topping is ready to use. Attach spray nozzle. With nozzle pointed down, shake can 1-2 times and gently pull trigger (you are forcing the contents to the nozzle end of the canister). Store in refrigerator on its side and use within 5 days. I have found that the more you shake the can, the airier the topping becomes and can make it difficult to express.
How To: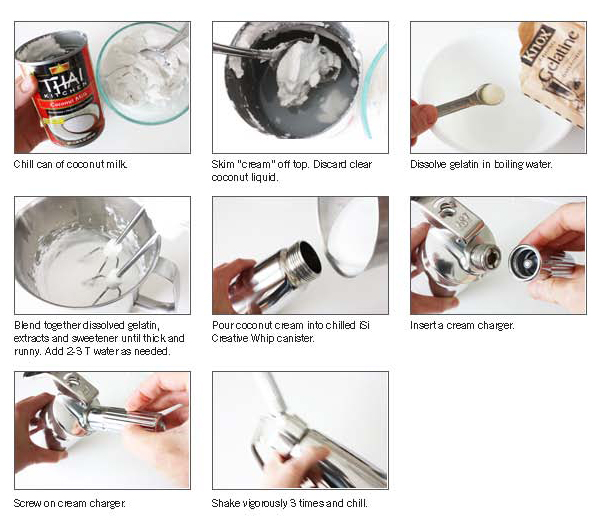 Trouble Shooting:
• Only air is coming out or is sputtering | Before each use, shake canister three times with nozzle pointed downward and/or allow canister to sit at room temperature for 10 minutes before using.
• Cream is runny | Following charging, canister was not chilled long enough. I have found that the longer you chill the cream the better. I suggest making, charging and refrigerating coconut whipped cream one day in advance. Or charge a second time.
• Do not make half a batch.