These gluten free dairy free and egg free Lexie's Scones make a great brunch treat. Serve with fresh berries.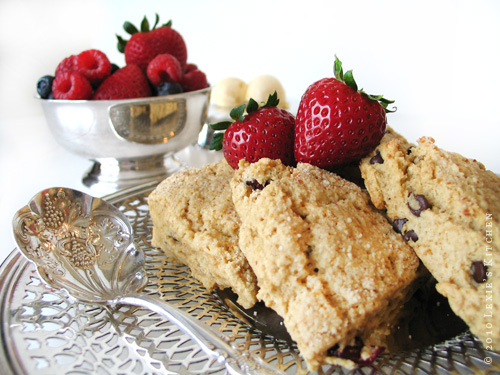 More often than not I find gluten-free/egg-free baking a bit challenging. Sometimes I give in—as I did this weekend—and make a baked good with eggs in it. We just have to scarf it down out of view of our two-year old who has the intolerance. Well, today I was pleasantly surprised with the outcome of a batch of scones. I wanted to make my kids a little something special for breakfast to go along with the gobs of organic berries I'd bought. They enjoyed the scones, but the really enjoyed the berries—see the funny story that follows the recipe.
Lexie's Scones
In a small bowl, add in this order and set aside:
3/4 cup UNSWEETENED NON-DAIRY MILK BEVERAGE
1 tablespoon LEMON JUICE
1/4 cup OIL
1 teaspoon gluten-free VANILLA EXTRACT
8 drops liquid STEVIA
In a large bowl, combine:
1 cup ALMOND FLOUR (I use Honeyville® or make your own)
2 cups BOB'S RED MILL®ALL-PURPOSE GF BAKING FLOUR(or make your own)
2 tablespoons GROUND FLAXSEED
1/2 teaspoon XANTHAN GUM
1/3 cup COCONUT SUGAR (sifted if lumpy) or EVAPORATED CANE SUGAR
2 tablespoons BAKING POWDER
1/4 teaspoon SEA SALT
1/2 cup mini CHOCOLATE CHIPS (I use Enjoy Life®). See Notes.
Add and stir until just combined:
Milk mixture
Flour mixture
Mix-in of your choice (I used Enjoy Life® mini-chocolate chips)
Divide dough in half. With moistened hands, gently form a ball with one half of the dough and practice your softball pitch straight onto a parchment-lined baking sheet. Throw dough down onto cookie sheet with a thwack!  These should make a 1-2 inch thick disk. Gently flatten a bit more to create a 1-inch thick disk. Repeat with second half of dough. With a sharp, wet knife, cut each disk into six pie-shaped wedges. Gently nudge apart to create a 1/4 inch gap between each slice. Gently brush tops with non-dairy milk. Bake at 400˚F for 15 minutes. Cool slightly on a cooling rack before serving.
Now for the funny:If something I make looks good AND tastes good, I get out the camera and snap a few pictures. Today's scones were worthy of a picture and I had some extra time to fancy the shot up with berries and my grandmother's silver. As usually happens, my attention was diverted to a load of laundry. Ten minutes later I came back downstairs to find my 4-year old bellied up to the sink washing something red off his hands. Hmmmm, I thought. What had he gotten into? It turned out THEY had gotten into my PHOTO SHOOT, agghhhh! So the first picture is the BEFORE—what I left before attending to the laundry. The second is the AFTER—what I found when I came back. We all had a good laugh!