Who doesn't love a good gluten free vegan apple crisp? This one has been jazzed up with a touch of molasses and holiday flavors.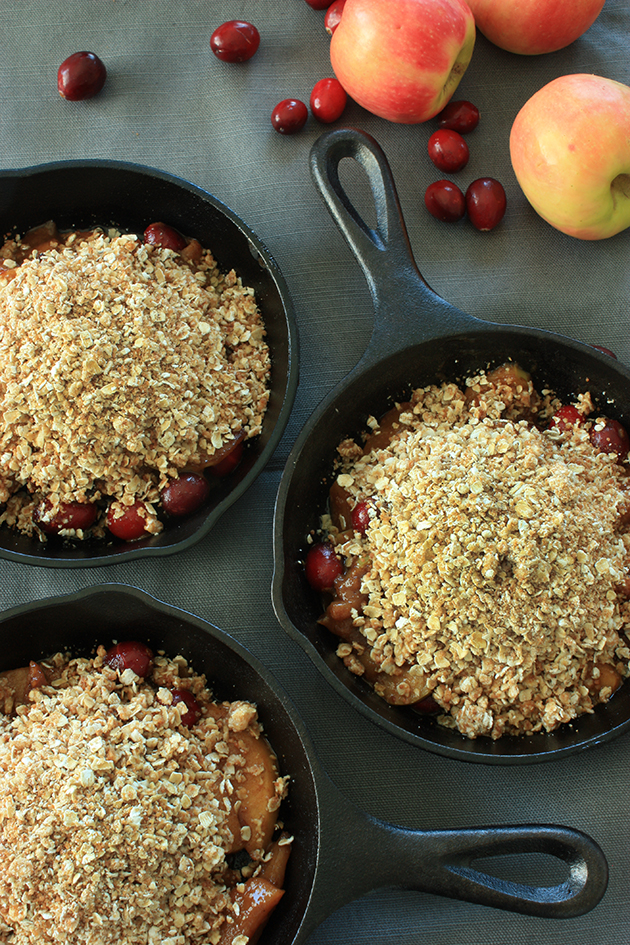 Gluten Free Vegan Apple Crisp
Who doesn't love a good apple crisp? It was the mainstay dessert in our household growing up and nothing speaks more of "home for the holidays" than my mom's apple crisp. The other day I phoned her for tips and we got to talking about her latest trials. She said she's been adding a touch of molasses and a generous teaspoon of ginger to her apple filling. And so she inspired me!
This apple crisp starts on the stovetop and finishes in the oven. An easy skillet dessert (thank you Lise for introducing me to skillet pies!). It has slight undertones of gingerbread and spice. Throw in a few fresh cranberries and you've stepped it up a festive notch. I tried to cut out as much fat (though good fat it is) and sweetener as possible without making it a "why bother" dessert—you know the ones, so healthy that they lack the "indulgent" factor.
The apples I use for gluten free vegan apple crisp or pie making are Granny Smith, Pink Lady and Jonagolds. For this crisp I used a combination of all three.
The Partial Peel
Another trick my mom taught me is the "partial peel." Peeling apples is cumbersome (I usually holler for the kids) and so if working with organic apples, I just give them a rough peel. Leaving some skin. It adds a little rustic touch. If you are using non-organic, I suggest peeling them completely.
The crisps pictured here are individual servings made in 6-1/2″ cast iron skillets (I so love these). I cook up the apple filling and then divide it between four mini skillets. But, feel free to use one large skillet—cast iron or a le Crueset braiser (see below, it's my favorite and most-used piece of cookware).
Holiday Spice Skillet Apple Crisp
Ingredients
For the Apple Filling

2-1/2 pounds APPLES (Granny Smith, Jonagold and/or Pink Lady)
2 tablespoons virgin COCONUT OIL
3 tablespoons brown sugar or COCONUT SUGAR
2 teaspoons TAPIOCA STARCH
1 teaspoon apple pie spice or BAKING SPICE
2/3 cup full-fat canned COCONUT MILK (like Thai Kitchen)
2 tablespoons MOLASSES
1 tablespoon APPLE CIDER VINEGAR
1 teaspoon grated fresh GINGER
Pinch of SALT
1/2 cup fresh CRANBERRIES (optional)

For the Crisp Topping

1-1/2 cup quick cooking gluten-free OATS
1/3 cup brown sugar or COCONUT SUGAR
1/4 cup TAPIOCA FLOUR 
1/4 cup COCONUT OIL, solidified
Pinch of SALT
Instructions
Preheat oven to 350F.
Partial peel the apples, leaving some bits of skin on. Core and slice in 1/8-inch thick wedges.
Heat the 2 tablespoons coconut oil in a 12-inch cast iron or oven-proof skillet. Add apples and cook 15-20 minutes until they begin to caramelize and become tender—stirring only 2-3 times. 
Meanwhile, in a medium bowl combine; 3 tablespoons coconut sugar, tapioca starch, baking spice, coconut milk, molasses, vinegar, ginger, and salt. 
Remove apples from heat and stir in liquid mixture and cranberries until evenly coated. Set aside.
In a medium bowl combine topping ingredients. Use your hands to massage the solidified coconut oil into the dry ingredients until thoroughly combined.
Spoon topping over apples and bake at 350?F for 25 minutes.
Serve warm.
https://www.floandgrace.com/20121219holiday-spice-skillet-apple-crisp-html/
© 2016 - 2022 Flo and Grace.
Click and Buy from Amazon (affiliate links)