With Thanksgiving less than a week away, you may be on a last-minute hunt for a basic gluten-free pie crust recipe. This pie crust happens to be dairy-free and egg-free, too!
Today I stopped into Jax—the outfitter with the mostest in Fort Collins, Colorado. Need camo? They've got it. Fishing flies? Check. Super cute yoga pants? Yep.
Post squeeze-into-aforementioned-super-cute-yoga-pants attempt, I headed over to kitchenwares and found something more up my alley—a Mini Pie Baking Kit!
I may not have cute thighs, but I have some cutie pies. Oh STOP me!
With Thanksgiving less than a week away, some of you may be on a last-minute hunt for a basic gluten-free, dairy-free and egg-free pie dough recipe.
Well in the event you missed it, last Friday I announced that I had finished my cookbook, Everyday Classics, and is available  on Amazon. In it is the gluten free pie crust recipe below.
Though I'm not crazy about the quality of the pie tins that come with the kit (I'll probably invest in some ceramic ones)—the topper cutter thingamajig is super duper. It looks like I spent hours cutting and weaving that lattice top and crimping the edges just so, huh? Totally impressed myself. And though I've not mastered that Hummingbird pose in my ratty old sweats, I have mastered the making of a super cute gluten-free pie crust. Sigh.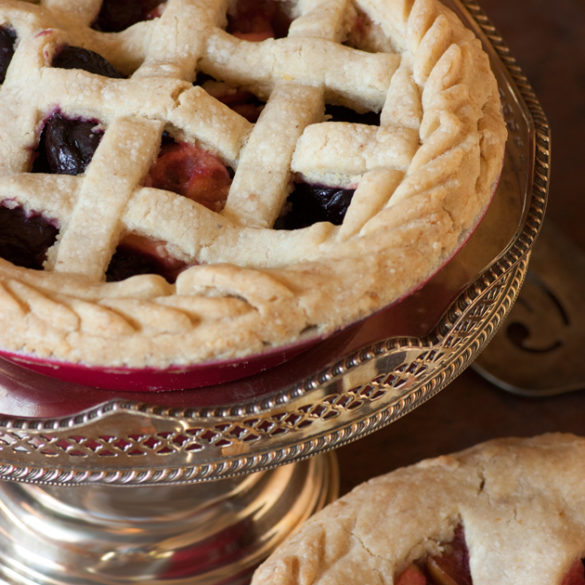 Ingredients
1 cup superfine brown rice flour
¼ cup + 2 tablespoons sweet rice flour
¼ cup + 2 tablespoons tapioca starch / flour, plus more for dusting
¼ cup + 2 tablespoons potato starch
2 tablespoons chia seed meal (preferably white ground chia seeds)
3 tablespoons sugar (omit for a savory crust)
1 tablespoon whole psyllium husk
½ teaspoon salt
½ teaspoon baking powder
1 cup very cold palm shortening
Approximately ¾ cup ice cold water
Instructions
In the bowl of a food processor fitted with the "s" blade, pulse flours, starches, chia seed meal, sugar, psyllium husk, salt, and baking powder until combined. Add shortening and pulse 6 to 8 times, or until nickel-sized clumps begin to form.
Add ½ cup plus 2 tablespoons ice cold water and pulse 8 to 10 times or until a dough begins to form. Add another 2 tablespoons water, only if needed, to achieve a dough that holds together but that is not sticky.
Remove dough from food processor and knead 2 to 3 times on a tapioca flour-dusted surface. Divide dough in half and shape into two 1-inch thick disks. Wrap disks individually in plastic wrap and refrigerate for at least two hours.