Make up batch of this Ginger Umeboshi Broth and serve it over cooked black bean pasta along with some raw veggies. Quite nourishing and delightful!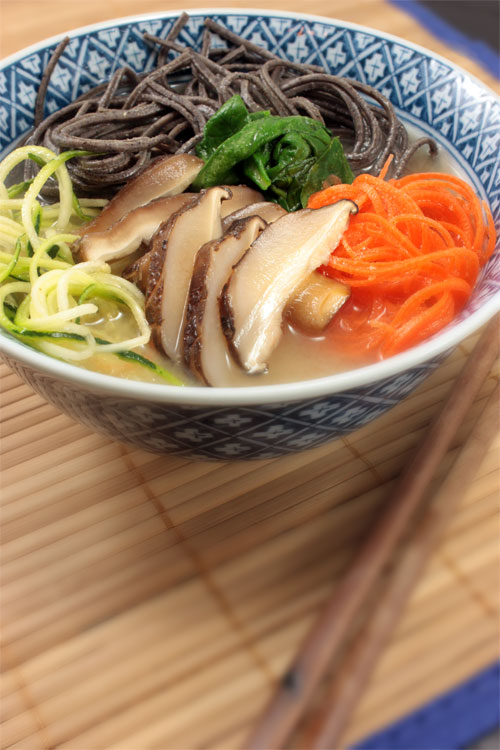 A friend of mine at Navan Foods introduced me to the the tasty and wonderful Explore Asian Organic Black Bean Spaghetti. This gluten-free, grain-free pasta cooks up al dente—beautifully.
With Black Bean Spaghetti in hand and craving an Asian noodle soup, I mixed up a batch of this Ginger Umeboshi Broth and served it over the cooked pasta along with some raw veggies. It was delightful! Light. Fresh. Nourishing. The kind of meal the body thanks you for. This broth is quick to prepare. I use it as I would miso soup.
Ginger Umeboshi Broth

Gluten-Free | Casein-Free | Citrus-Free | Corn-Free | Dairy-Free | Egg-Free | Fish-Free | Nightshade-Free | Peanut-Free | Potato-Free | Rice-Free | Shellfish-Free | Soy-Free | Tree Nut-Free | Wheat-Free | Grain-Free | Sesame-Free | Sweetener-Free | Yeast-free | GFCF | Easily Vegetarian | Easily Vegan

Serves:  2-4
Prep Time:  10 minutes
Cook Time:  10 minutes
Ingredients:
6 small dried SHIITAKE MUSHROOMS, rinsed
2 teaspoons UMEBOSHI PASTE or 4 UMEBOSHI (pit removed)
2 teaspoons minced GINGER ROOT
2 cups CHICKEN or VEGETABLE BROTH
4 cups WATER
2-4 cups prepared BLACK BEAN SPAGHETTI
4-6 cups VEGETABLES (I suggest carrots, zucchini, mushrooms, spinach, bok choy)
Directions:
In a large saucepan, simmer mushrooms, umeboshi, ginger, broth and water for 10 minutes or until mushrooms are plump. Using a slotted spoon, remove two of the mushrooms, slice and reserve for garnish.
Allow broth mixture to cool a bit then transfer to a blender and carefully blend on high until smooth (blend in batches if necessary). If your blender has left undesirable chunks, strain using a wire mesh strainer. Return to saucepan and heat through.
Divide and arrange pasta, vegetables and sliced mushrooms into two deep serving bowls. Ladle 2-3 cups broth into each bowl.
Serve and enjoy!
Notes:
Vegetables pictured were prepared using a Joyce Chen Spiralizer. I am moderately happy with this model. There may be better ones out there. A spiralizer is a fun kitchen gadget to have for making raw vegetable "noodles" and garnishes (see my post on Zucchini Noodles).
What is Umeboshi?
For those unfamiliar with umeboshi, it is a salty and sour fermented species of apricot. For centuries, Japan has hailed umeboshi for its medicinal properties and alkalizing effect on the body. It is known to be a natural remedy for headaches, a natural antibiotic, a digestive aid and a detoxifier. It may be purchased in the form of the whole fruit (with seed) or paste. Take care in the brand you purchase. Some brands contain monosodium glutamate and food coloring (tsk tsk). Eden Selected Umeboshi products are a safe bet and can be found at most natural food stores and on Amazon.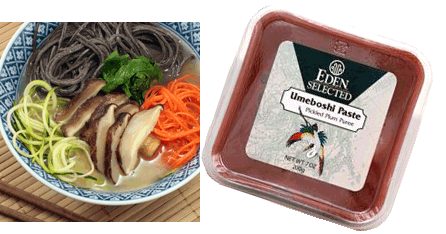 Navan Foods | The Allergy Friendly Food Shop

Explore Asian also makes Mung Bean Fettucini and Soybean Spaghetti. All are gluten-free, high protein and low carb. The place to order these products is from Navan Foods. Navan Foods is a great online allergy free food shop. Visit today and explore its expansive allergy-friendly grocery offering.
Other Umeboshi Recipes to Try:
Homemade Umeboshi over at Just Hungry
Umeboshi Cucumber Dressing over at Elana's Pantry
Umeboshi Rice over at The Whole Wheat
Umeboshi & Avocado Salad over at Tokyo Terrace